Even though rarely known, Shift cryptocurrency was launched earlier than most of the other cryptocurrencies. It is an open-source blockchain platform which can be used to build decentralized new apps. According to the team behind the altcoin, whose ticker symbol is SHIFT, it is the first next-generation blockchain which comes with an inbuilt 'killer dApp'. This means that the blockchain comes with a technology superior to many of the blockchains you have come across, even Bitcoin and Ethereum.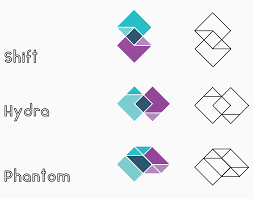 Shift crypto is meant to disrupt the web hosting industry. The company has created Phantom which is a decentralized app to host websites. It does so through the Shift IPFS rather than the normal way a website is hosted. By using this 'killer dApp', the company is of the opinion that a business gets a chance of succeeding in the current competitive world.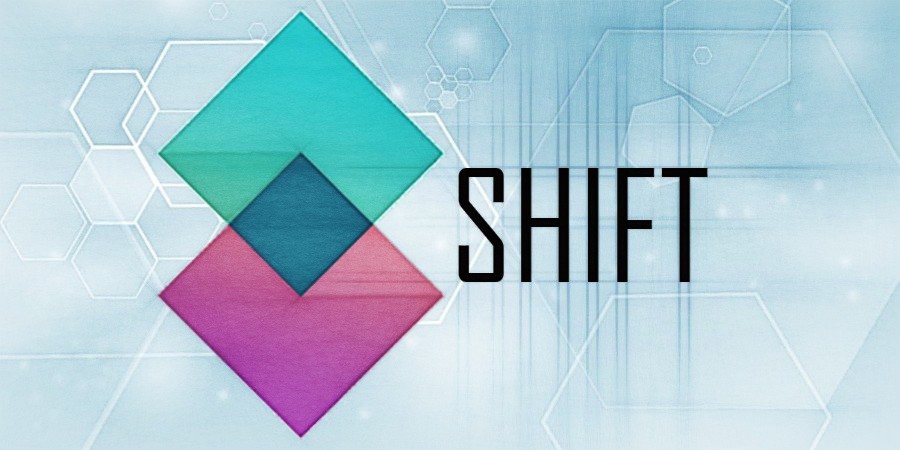 How does Shift crypto work?
Because Shift is an open-source platform, developers of dApps are free to use the company's script. This is made even easier by the fact that Shift Company has used Javascript which is popular language among dApp developers. According to the company, every dApp created using the Shift script can access the IPFS cluster to store data. This will be made possible by the use of a P2P hypermedia distribution protocol, an interplanetary file system which the company created.
The Phantom application which works as a user interface for file management has its own sidechain inside the Shift blockchain. Even though Phantom will be part of the bigger blockchain, it will act independently. This then means that Phantom will have its own rules and the transactions will be independent of those of Shift. The sidechains can connect and synchronize with the main chain which in turn guarantees stability for the dApp and the main chain. By extension, this means that every project which will be based on Shift system will enjoy the crypto's blockchain technology but at the same time have its own qualities.
The performance of SHIFT in the exchanges
Until early 2017, Shift token had never surpassed the $0.5 mark. Unlike Bitcoin and other major cryptocurrencies, SHIFT enjoyed a price surge in mid-2017. In June, the token touched a high of $2.93. Even though the value of the token dropped marginally over the following months, it went back up to touch an all-high price of $12.86 on December 29th. It was only twelve hours before that the coin commanded a price of $6.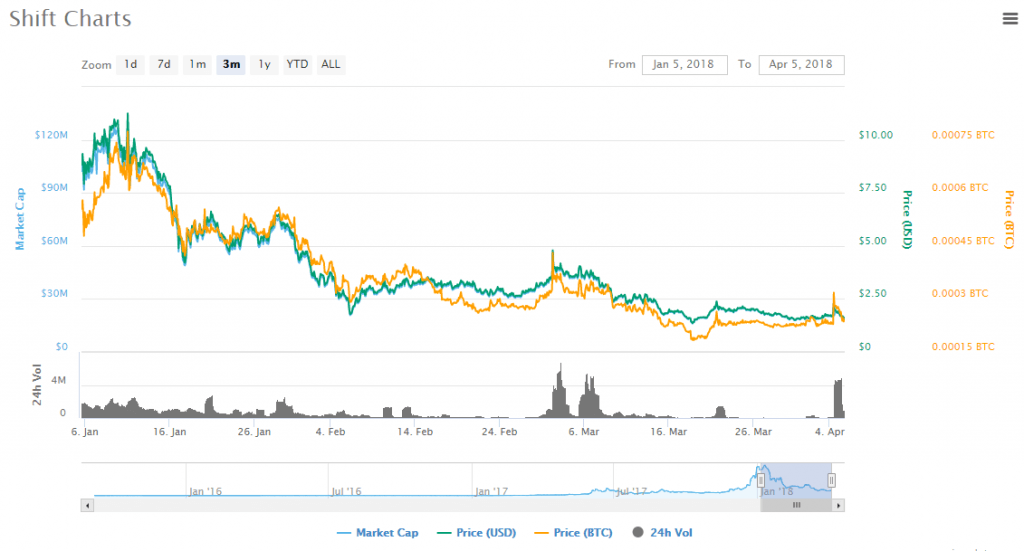 Like Bitcoin Cash and other cryptos which mimic Bitcoin, Shift cryptocurrency has been losing value steadily in 2018. It was not until Wednesday that the token started to rise. It touched a high of $2.77 having closed at $1.73 the previous day. The volumes traded also surged from $177,100 on Tuesday to reach $4.7 million on Wednesday. The market cap on Wednesday was $20 million. At around noon (CET) Thursday, the token was trading at $1.68 having lost more than 15%. As for traded volumes, they had dipped to $1 million.
Should invest in Shift altcoin?
Even though the crypto has been around since 2016, the team behind it only released the whitepaper on March the 5th 2018. The whitepaper is a bit technical but well detailed. Remember that the crypto is built with dApps developers in mind. It might not be a very good investment opportunity for a person who doesn't understand dApps and Javascript. But at the end of the day, it is a volatile crypto which is one of the most important features to look for as a trader.