Octoin cryptocurrency was founded in 2016. It came to be after Singapore and U.K traders came together. The other members of the team are operators of mining pools from the northwestern province of China. Octoin crypto whose ticker symbol is OCC is a multi-functional platform. This platform which was launched in November 2017 offers investment information, an integrated P2P exchange, mining equipment leasing and a multi-currency wallet.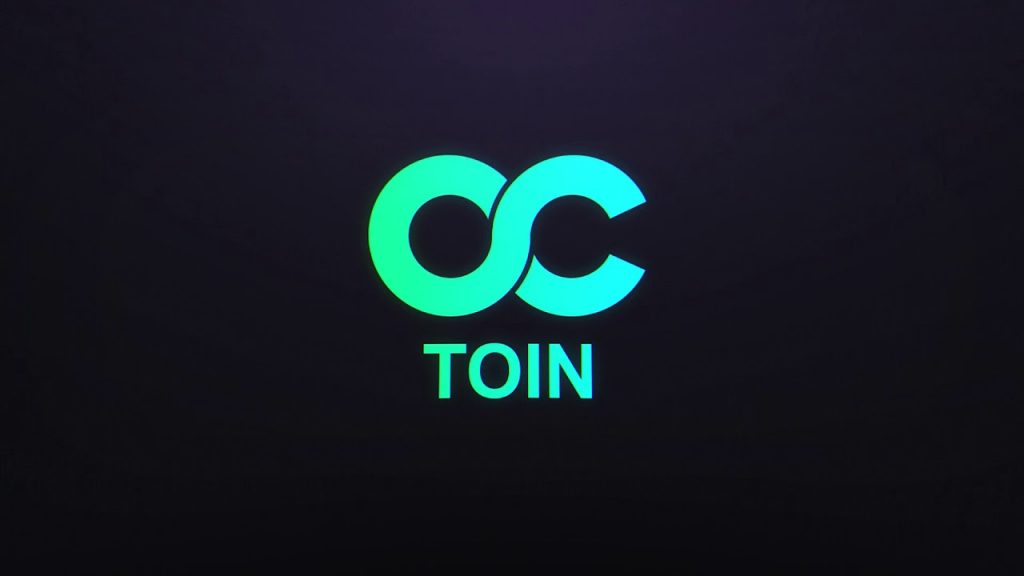 According to Octoin team, the main aim of the project is to give maximum functionality to the users to work with cryptos in a single place through blockchain technology. When you use Octoin, you won't need to keep several wallets for each cryptocurrency as everything can be brought together in a single Octoin wallet and also managed from one place, explains Ryan Murthy, head of Octoin software department. Ideally, the main goal of having the Octoin coin is to make cryptocurrencies simple and affordable.
What makes Octoin Cryptocurrency stand out?
The Octoin project has its own cryptocurrency called Octoin Coin. The team claims that its P2P exchange enables users to exchange their crypto coins in a user-friendly atmosphere. You can rent mining equipment here and you can even choose the cryptocurrency that you intend to mine. The platform allows you to choose how long you want to rent the equipment. Users have access to the latest news from the world of cryptocurrencies.
How does Octoin work?
This is where questions arise on whether Octoin is a scam or if it is genuine. It shows signs of being both a Ponzi and a pyramid scheme both of which are illegal. Octoin promises you a 7-level income across a multilevel marketing scheme with affiliate referral system. Affiliates are asked to buy OCC points from the company. These points are valued at $1. After an affiliate purchases these points, they are told that they can get daily (Return on Investment) ROI for 60 days. The schedule of the returns is as follows;
After buying the points and keeping them for 90 days, you get 5% bonus
Keeping for 120 days equals a 10% bonus
Keeping the points for 150 days equals a 12% bonus.
Besides the bonus, recruiting new members into the platform earns you an income. The company claims to pay users a guaranteed 30% ROI. This means that users are paid a minimum of 1% ROI daily.
The performance of Octoin
The crypto started at a price of $7 on Coinmarketcap before rising to reach a high of $21 two days later on March 14th this year. The 24-hour volumes traded for the past several weeks rarely touch the $1 million mark. The market cap for the crypto has stayed in the $1 million range. Unlike major cryptos which have been gaining in the past few weeks, Octoin has been on a steady decline. On April 25th, the crypto closed at a low price of $2.1 while the volume traded for that day was $0.9 million.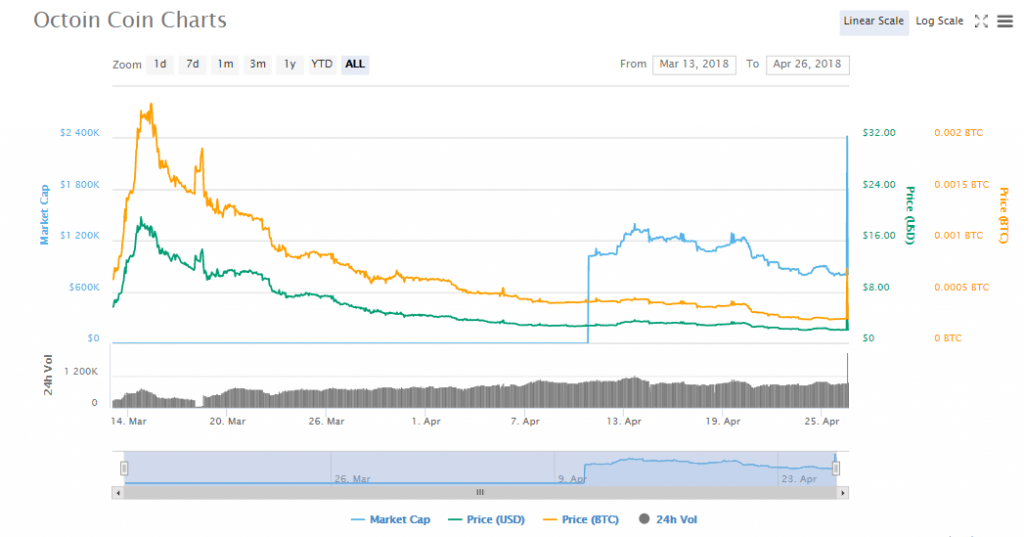 It is the unusual performance of the crypto which has attracted the attention of many crypto enthusiasts. At around noon (UTC), April 26th, the price of the crypto spiked from a low of $2.11 to $6.37 where it stayed for 20 minutes before falling back to $2.11. According to Coinmarketcap, the market cap for the crypto rose to $2.4 million in those few minutes before dropping to $804,000. The OCCs traded shot from $938,000 to $2.4 million.
Should you invest in Octoin?
Today, there are many banks that lend money at a rate lower than 1% per day. It would then be weird for a company (Octoin) borrow from you at a rate higher than what the banks can offer them. Even though the website seems legitimate at first, albeit poorly written English, further reading will show you that the mining process is not transparent. In addition, the team behind the crypto doesn't show any experience or evidence to prove that they are qualified to handle your money. The same concept of offering users unusual returns was used by Bitconnect. Unless there is more information from the team behind this crypto, it is advisable to not invest in it, at least for now.