PACcoin is one of the highest performing alternative coins now. Just recently, the coin was ranked number 136 on the list of high-performing and upcoming coins. In a market where there are over 1,000 cryptos, this is a good performance for a relatively new crypto. The popularity of cryptocurrencies such as Ethereum and Bitcoin continue to soar. It is not surprising then to see that new altcoins are being released on a daily basis. The PACcoin crypto was released in 2015. Even though for the longest time no one seemed to even notice it existed, it is currently attracting a lot of interest and investors.
About PACcoin cryptocurrency
This cryptocurrency was created by William Corliss. PACcoin stands for People's Alternative Choice coin. Its design is meant to help people transact in real-world situations. The crypto is, therefore, meant to make payment of coffee, groceries, bus fare or house rent possible. The PAC market is pretty impressive in that liquidity has risen incredibly over the past few weeks. This has subsequently allowed players with larger capital balances to enter and exit with minimal market disturbance. This concept is yet to be employed by a majority of the other crypto especially those launched in 2017.
PAC coins can be freely sent around the world. The benefit of this crypto like the rest of the cryptos is that there is no risk of government interference. Moreover, payments are made instantaneously and only attract a very small transactional fee. It is good to note that the fee is a fraction of what conventional banks and agencies such as Western Union and PayPal charge.
Why has the crypto grown so fast?
The primary reason why PACcoin has enjoyed tremendous growth is its uniqueness as a crypto. The developers of the coin have invested in its overall security. The authentication protocols used here make it impossible for hackers and any third party software to access customer accounts on the platform. The PACcoin is based on blockchain technology just like Ethereum and Litecoin. Transactions are guaranteed to happen in a very transparent and fair manner. The blockchain technology also allows account holders to track the movement of funds at all times.
The PACcoin website is quite friendly and a newbie will learn almost everything they wish to learn about cryptocurrency. This is definitely a big plus when it comes to people investing in it. In addition, the CEO has admitted time and again that he has a full-time job and PACcoin is just but a part-time adventure. While this might be scary to some people, it seems to resonate well with some investors. After all, the crypto is designed to be a currency for everyday use.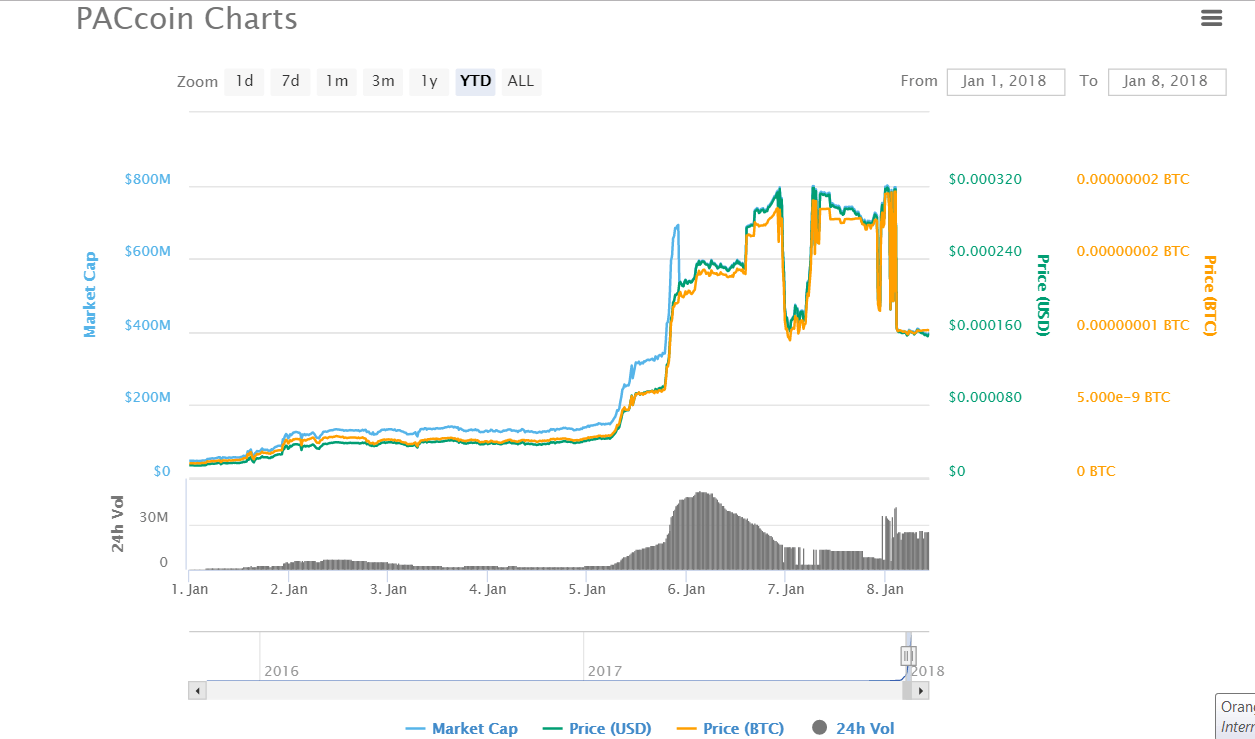 The performance of PACcoin
PACcoin has been around for a number of years. Its price has been a solid negative in that it stayed on the negative and has ever touched a low of $9.48e-8. On 2nd January 2018, the price started picking. Within a few days, the price has touched a high of $0.000316. The market capitalization is almost $700 million as of 8th January 2018. This cryptocurrency is one of the best performings if the price sways is anything to go by.