Patientory is a blockchain-based virtual currency that seeks to help solve the handling of patient information problem. According to the founder and CEO of Patientory, Chrissa McFarlane, the platform seeks to create a more patient-centric solution which empowers patients to use the information to their benefit. This will lead to patients leading a more quality lifestyle than before.

Patientory is a cybersecurity medical record network. The project was designed to eliminate issues of having medical records scattered across different systems of different hospitals and other medical record systems. The team behind the crypto wants to put all this scattered information in a central place where it will be easily accessible and fully secured.
What Patientory crypto seeks to solve
Patientory Company is a Delaware C-Corporation based in Atlanta, Georgia. Ideally, the project seeks to solve inefficiencies in the healthcare industry in the US. It is designed to solve these problems using scalable, secure and cost-effective health management system. When it was formed, the following issues were top on the agenda;
Around 2,600 hospitals in the United States face over $500 million in penalties. These penalties arise under the government's readmissions reduction program in 2016. A high number of readmissions happen because there is poor healthcare coordination caused by siloed HER systems. The different regulations existing in different states also contribute to this problem.
In 2016, over 117 million people were diagnosed with different chronic illnesses. The number has gone up as of today. These patients struggle when it comes to accessing health information in an efficient manner.
In 2015, over $6 billion loss was incurred by the healthcare industry because there were more than 112 million healthcare data breaches.
The performance of Patientory
Just like Bitcoin and many other cryptos, PTOY token is quite volatile. Upon its launch, more than $7 million was raised within 3 days. That shows how eager people were eager to own a piece of the crypto. However, the team behind the crypto has been accused of not doing enough, especially on social media platforms. The crypto's community is quiet on almost every other crypto-relevant platform such Reddit.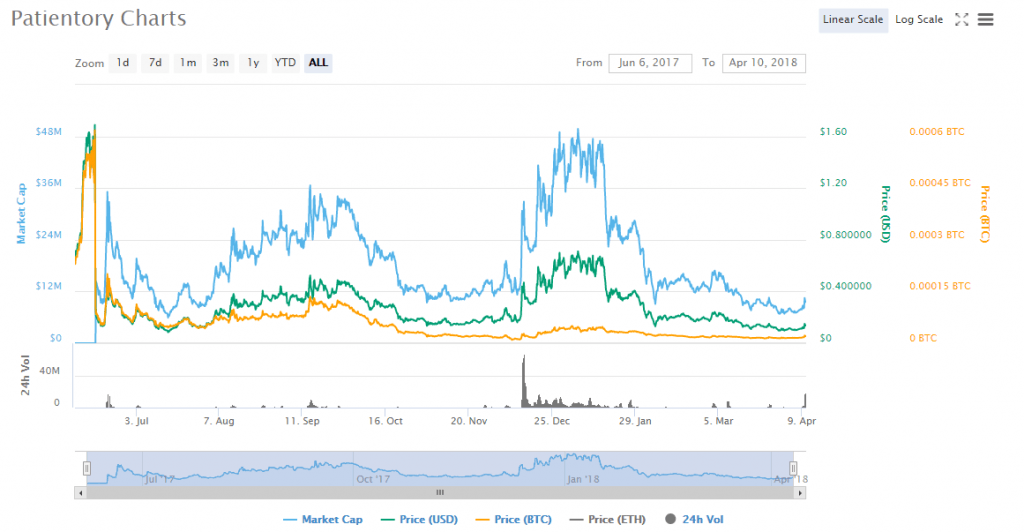 The PTOY closed 2017 while commanding a price of $0.59 and a market cap of $41 million. The cryptocurrency rally in the first days of January also helped elevate the token's price to a new high of $0.73. The market cap on January reached a high of $47 million. As at 10th April, the price of the crypto had dropped to $0.136 while market cap stood at $9.5 million. The 24-hour traded volumes were $19 million making it one of the most traded cryptos in the past 24 hours.
Analysis for 2018
The poor performance of Patientory token is not isolated as major cryptos are also on a bearish streak since February 2018. But the crypto is one which has one of the most solid ideas to sell and it should be doing better than it is now. While Bitcoin's performance will certainly influence the way PTOY does in the exchanges, this token can stay afloat and relevant for a very long time. It is one of the cryptos to watch in 2018 especially if the company decides to vigorously promote it.