The world animated by the cryptocurrency buzz. Unlike a majority of cryptos, Project-X has not provided a lot of information with which a trader can go on with. The little we know about this crypto is that it uses blockchain technology just like Bitcoin and Ethereum.
The history of Project-X (NANOX)
The coin is listed on several cryptocurrency exchanges. There is no information provided about the developers of the coin. However, according to the exchanges where it is listed, it was introduced into the market on 30th May 2017. The market capitalization of the coin at the time was $0.0. Its price at the time was $440,188 which means that you had to part with 201 BTC to get 1 NANOX. On 31st May, the price shot to $1.63 million while market cap remained $0.00. The exchange per Bitcoin, which was the only well-known crypto, was 738 BTC for a NANOX. The volume traded in those 24 hours was a mere $1,600.
Current position
Currently, the price per NANOX is $525,885 or 31 BTC. This is a 35% drop from December 20th when the price touched a high of $1.36 million. The volume for 24 hours stood at $15,000. Only 1.1090166 NANOX is in supply and 0.078264 of it circulates. This might explain the extremely high price that the crypto commands.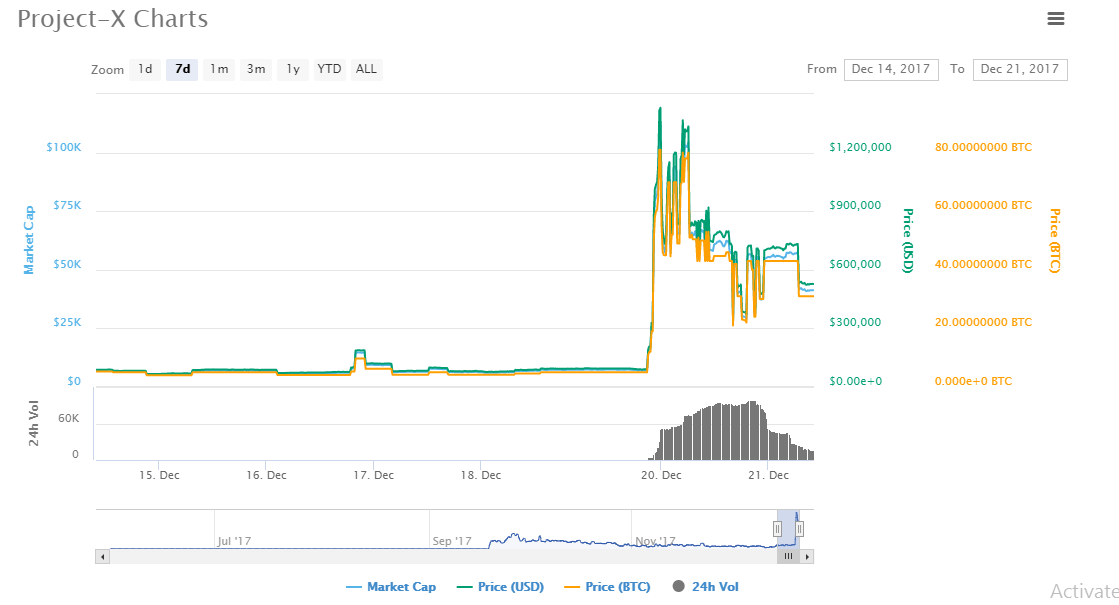 Whenever an investor scouts for a good investment opportunity, it is important to crosscheck some things. Even the newest of 2017 cryptocurrencies, one should at least check out the website of the people offering the crypto. For starters, Project-X has no published website, Twitter or Facebook account. To add on to this, there is no single comment about this coin on Reddit, Bitcointalk or any other social network where crypto enthusiasts share ideas. At least, not one which can help shed light on the authenticity of the coin.
Should you invest in Project-X (NANOX)
If you were to compare Bitcoin with NANOX on December 21st, you will find that BTC traded for $16,861. The volumes moved in 24 hours stand at $18.98 billion while market cap is $282.5 billion. On the other hand, NANOX whose price is $525,888 has moved only $15,000 in the last 24 hours and its market cap stands at $40,888. As a cautious investor, mystery shrouds this cryptocurrency. And no, it is not a good crypto to leap for. At least, not until some basic information is provided and not while there are countless transparent cryptos out there.