Time New Bank is commonly referred to as TNB. It's a digital currency which is based on blockchain technology just like most of the new cryptocurrencies of 2017. TNB is designed to help establish a time-value transmission network which embraces payment flexibility, pricing transparency, prominences of decentralization and internationalization.
M.I.T which stands for Miao'A International Timechain has worked for a long time to come up with a precision time-value-based transmission network. According to MIT, every individual has time-value for money and the extent to which one's time is valued depends on how much that person is needed by other people. In other words, if a person impacts more on the lives people around him or her, the more they will be needed. MIT found that for the purpose of presenting a people's time-value and then matching them to time exporters and time users (demanders), TNB should be introduced.
How does Time New Bank work?
TNB is a precision time-value transmission platform based on blockchain technology. It is designed to organize a detailed network made up of a primary, secondary and third-party market for the time-commodity exchange. M.I.T intends to introduce a system whereby, the commodities belonging to time exporters will be recognized and demanded via an organized scientific analytical model. This will be done by leveraging its decentralized value transmission platform. Time New Bank (TNB) will be used as the currency to settle accurately any transaction and to also tell the present and the future value of a commodity. Once a purchase has been done, time demanders can either materialize the commodity or transfer them to a secondary market.
How is TNB performing and is it a good investment?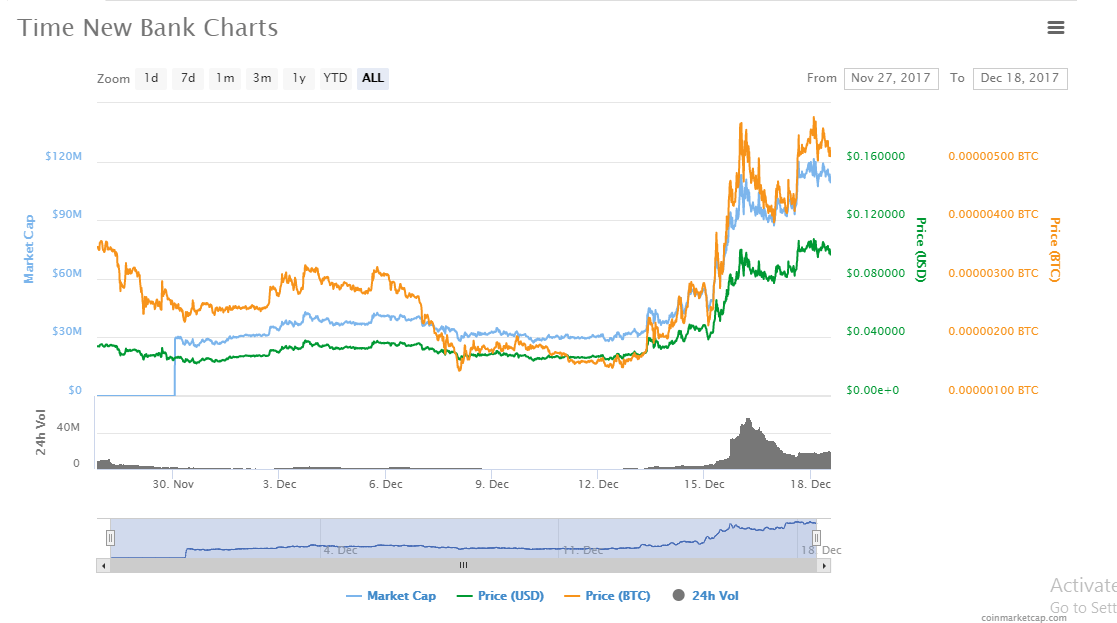 Just like Ethereum and many popular cryptocurrencies, TNB is using blockchain technology. However, it has used the technology in a rather different way because it aims to make time the commodity of trade. The price of the crypto on 1st of December was $0.023 while its market capitalization stood at $26.7 million. Over the following few weeks of December, the altcoin's price surged to reach a high of $0.1. The growth of the crypto in December 2017, 2018 and beyond will depend on whether the M.I.T's idea will get more people to buy into it. For now, there are many people watching how it will perform in the coming months.