TRON is designed to 'heal the internet' globally by creating a free content entertainment system on the now popular blockchain technology. It is designed to make the payment, storage, development and credit sharing easy for entertainment enthusiasts. It enables a person in one continent to purchase live entertainment from another continent. It helps overcome the traditional payment hurdles such as having a bank account in a bank outside your country.
Background of TRON
TRON was started by Justin Sun. He serves as the company's CEO. Over the years, he has had his notable moments having appeared twice in Forbes 30 most influential Asians under 30. He was the protégé of Jack Ma the founder of Alibaba. Sun is also recognized as having started Peiwo which is the Chinese equivalent of Snapchat. His popularity has enabled TON to grow at a very fast rate.
TRON has issued two previous ICOs which sold in seconds. According to Sun, TRON will become a new king of the distributed economy where streaming of videos, gambling, and digital entertainment will be extremely easy and fun. The users of this cryptocurrency will own their own unique economy.
How does it work?
TRONIX is the cryptocurrency which runs TRON. This crypto is the one which is being used for the service of a distributed economy. There is a 'Smart Contract Protocol' in TRON and which enables the users to easily access the features of the crypto. This protocol allows users to publish, store and own data freely. It also allows the users to enjoy ownership rights to their content and decide what, when and how to share it.
TRON can also play host between developers and users. It can be used to verify the authenticity and the compliance of credit information of both parties. The crypto is also well designed to be used in gaming currency exchanges as well as online gambling.
The growth of TRON
Like Bitcoin, TRON is designed to authenticate and verify users' transactions using the blockchain technology. The coin strength is quite high and it's backed by a strong community. The communication channels of the crypto are good and its presence on social media commendable. This makes it an ideal platform where users can enjoy gaming, gambling and video lovers can interact easily.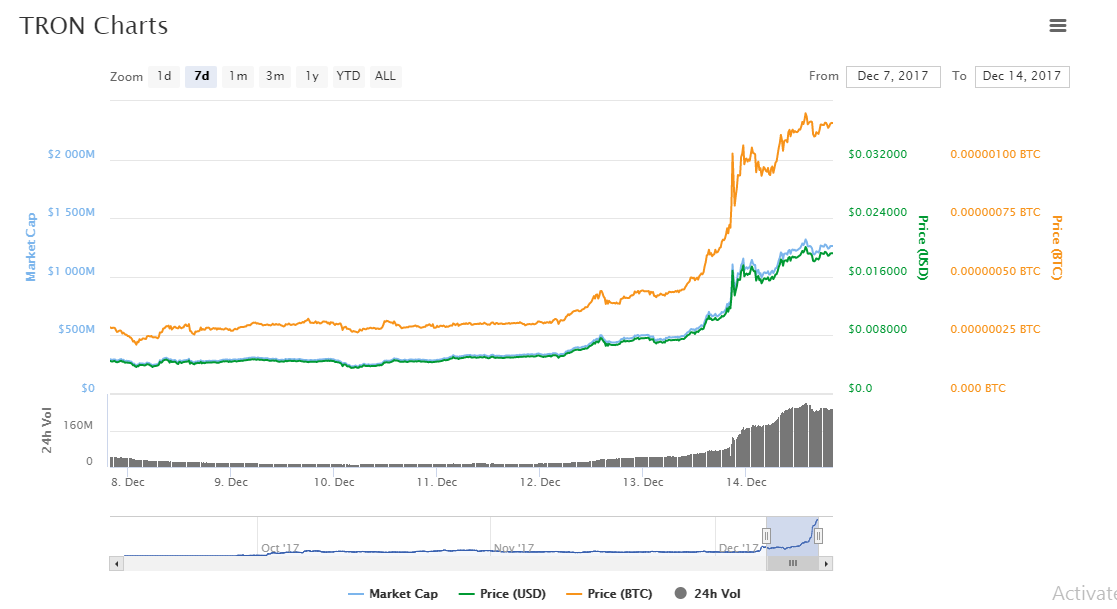 In mid-November, TRON had a high price of $0.002043. On December 2017, it had a high of $0.04138. This represents a 2,000% jump. As of 17th December, the market capitalization stood at $2.7 billion and the traded volumes were worth $283 million. TRON's market supply is 65 million TRX while the total supply is 100 million TRX.
Its current market position
Just like the now popular XP cryptocurrency, TRON's growth in the past 7 days has been incredible. It has seen its price shoot up by 750% in just one week. The versatility and the ease with which users from different parts of the world are able to use it make it one of the best user-friendly cryptos in the market. With the news of a future IPO and ICOs, this is definitely one of the cryptos to watch in 2018.