UpToken is a new cryptocurrency in the market. Its ICO which raised at least $19 million took place between October to December 2017. The crypto uses ERC20 standard and is Ethereum-based. The company behind the coin, Coinme, aims to create a host of cryptocurrency ATMs to be spread across the world. Coinme was the first Bitcoin ATM Company in the US and has more than 40 operational ATMs.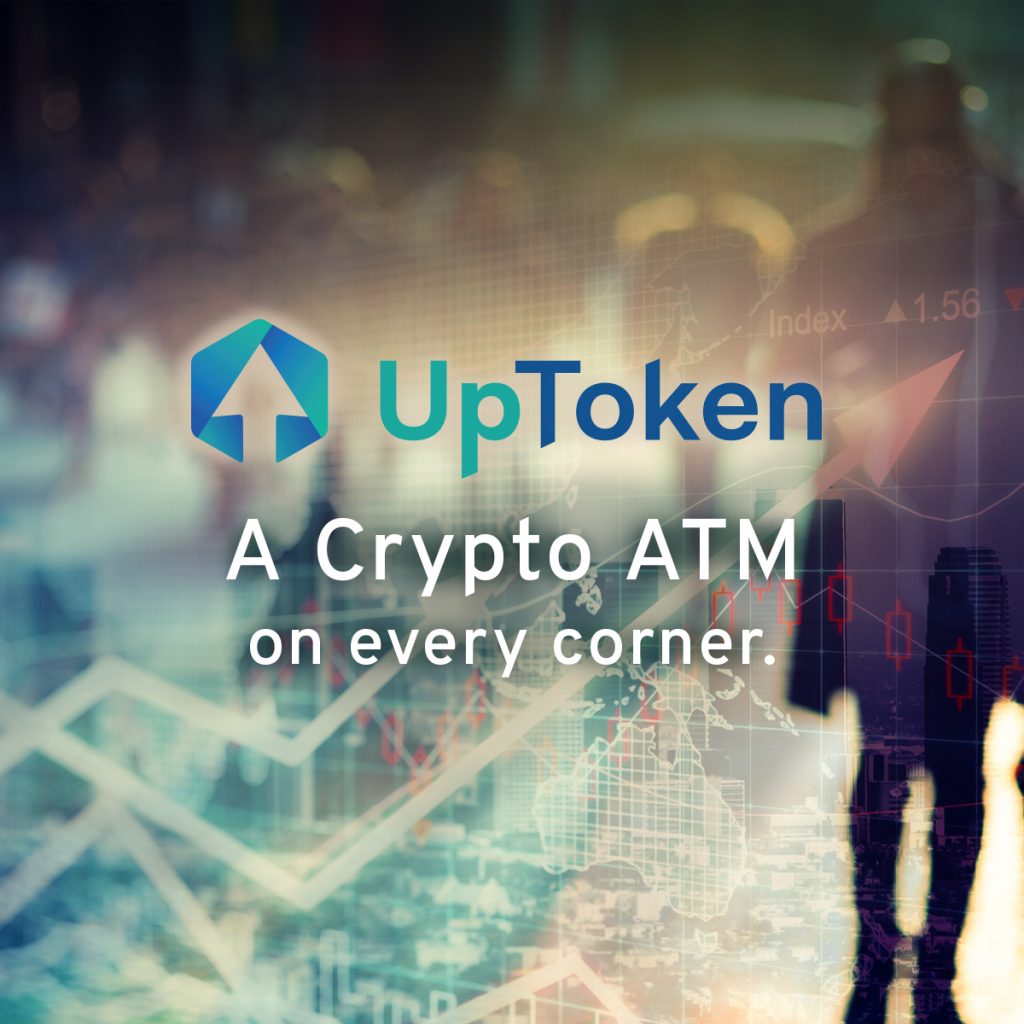 Coinme has designed its system in such a way that every time a person uses one of its crypto ATMs, they receive a 1% cash back which will be in the form of UpToken. In addition to that, customers will enjoy a 30% discount on ATM transaction fees whenever they opt to use their UpToken tokens to cover this fee. As time goes by, Coinme will add new cryptocurrencies to the ATM network. The company also plans to hold auctions and those interested will get to vote using the UpToken. The ticker symbol for the crypto is UP.
The team behind UpToken cryptocurrency
Coinme is a Seattle based company which was founded in 2014 and was funded using venture capital. UpToken is a project of Coinme. Besides running a network of crypto ATMs, the company is also a licensed financial service provider in the US. Coinme was founded by Neil Bergquist who is also the CEO and Michael Symers. Steven Olson, J.R Willet, and Brock Reed are the other senior members of the Coinme team.
How does UpToken work?
By now you might have guessed that UpToken is a loyalty program where customers are rewarded every time they use Coinme ATMs. Every time a customer uses an ATM, the company offers them cashback and other incentives. Users of the system will enjoy customer voting rights which will allow them to air their views on new features which are being added onto the ATMs.
The performance of UP
UpToken started trading at a high price of $0.43 on March 21st this year. The volumes traded on that day were in excess of $21 million even though the number dropped to $5 million the following day and then to $300,000 a week later. Just like Ripple, UP price gradually went down until April 6th when a low of $0.106 was touched. Like is the case with Bitcoin and other major cryptocurrencies, the token has in the past one week gained to close at $0.128 on April 10th. The crypto gained by 88% in the morning hours of April 14th to trade at $0.26. The 24-hour volume at the time stood at $50 million up from $14 million at closing time on 13th of April. The market cap on Friday stood at $19 million and on Saturday it had soared to reach $36 million.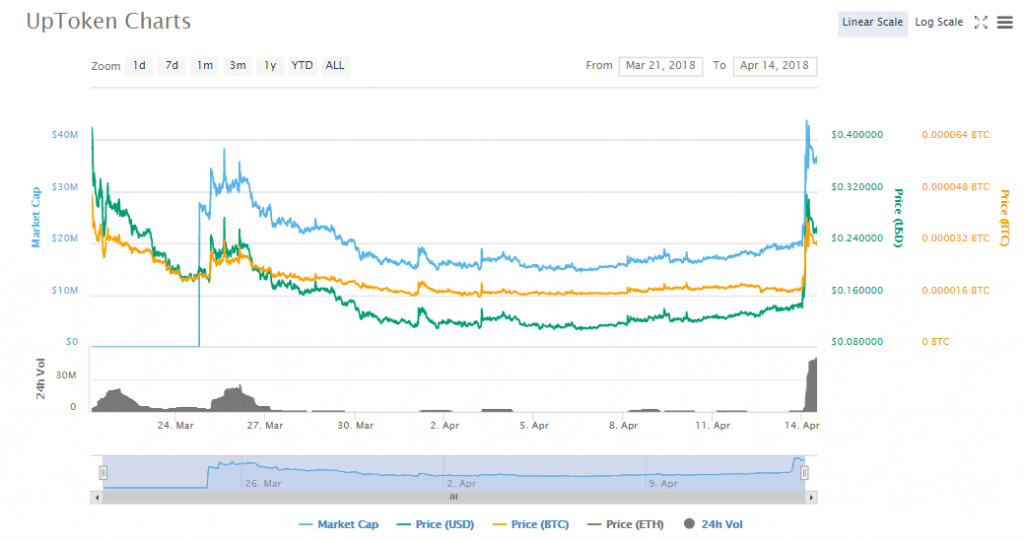 Should you invest in UpToken?
Coinme is an already established firm which offers crypto ATM services. This puts some legitimacy into the UpToken cryptocurrency that they launched. There are several projects which the company has undertaken including getting listed on exchanges which make the token more appealing. Even though the company offers crypto ATM services and subsequently promotes UpToken through the loyalty program, the community backing it is not that strong and this begs the question, will UpToken crypto rise?