Verge was introduced into the market in 2014. It can, therefore, be considered to be one of the older cryptocurrencies to have entered this thriving market. Bitcoin blockchain technology has been portrayed as a very crypto which users can use to transact their business. However, there are crypto enthusiasts who want more anonymity than what Bitcoin is able to offer. And this is offered by Verge.
When Verge (XVG) was being introduced, it was called DogeCoinDark. The developers wanted to create a cryptocurrency which was DogeCoin-based but which offered more privacy. In early 2016, the team behind the coin opted for a total rebrand of the coin and adopted the name 'Verge'.
How does it work?
Verge developers wanted to give users a coin that has a better blockchain system than Bitcoin and Ethereum. Privacy enhancing features like the utilization of anonymity-centric networks i2P and Tor were improved. Verge protects users against traffic analysis. This is a form of network surveillance which threatens personal privacy and freedom. With this altcoin, transactional traffic is channeled via several global servers.
Because of the heightened privacy, Verge users are able to comfortably receive as well as send transactions over the internet. There is a trail is virtually untraceable and the users can rest easy while transacting. In early June 2017, Verge announced the use of Tor in their new 'black paper' which guarantees users anonymity and faster confirmation times.
What makes Verge different?
Unlike some new cryptocurrencies of 2017, Verge has a very active development team and numerous contributors. Users can easily access the developers. This cryptocurrency is ready for mass adoption and can be used on a wide array of wallets. The currency also offers Android user anonymity which is a unique feature among privacy oriented coins. Like Bytecoin, this currency is decentralized and open-source.
Current performance
This alternative currency commanded a low price of $0.000001 in January 2015. For a brief period in April 2016, the price improved and touched a new high of $0.0002. It has since grown to reach an all high of $0.083. On the 18th December, the crypto opened at $0.052. The market capitalization is $600 million while the volumes traded were 519 million. Circulating supply of Verge is 14.4 million XVG and maximum supply is 16 million XVG. From the start of this year when the crypto was trading for around $0.00002 until mid December when it was commanding a high of $0.083, the currency has jumped by over 400,000%.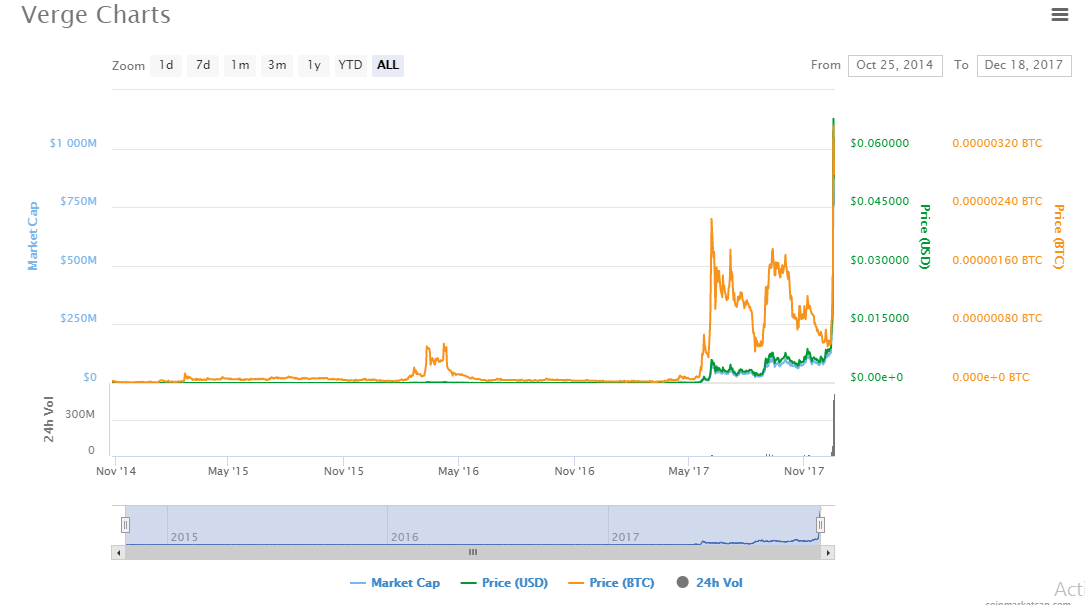 The forecasts of the coin
Like Bitconnect and other cryptos whose prices have risen sharply in the better half of 2017, Verge has not been left behind. The performance of the general market should be observed keenly while one is investing in Verge. However, it seems this currency is performing above average, at least for now. Moreover, the coming of CBOE and CME in the cryptocurrency market has not had a negative effect and this is a good thing for this crypto's enthusiasts.