Voxels is one of the very first cryptocurrencies in the market which is currently dealing with virtual reality. Just like Ethereum was the first altcoin in smart contracts field, Voxels has grabbed international attention as the first altcoin in virtual reality. Voxelus is a VR company which was founded in 2015. In creating Voxels cryptocurrency, the company wanted to develop and spread a system in which any person can create their own virtual worlds. Such a system would then allow the user to interact with such virtual worlds they have created. When you use the platform, you get to enjoy selling your own content which you have created. You can also buy from others the content which they have created.

Understanding Voxels
Voxels is a platform which lets any person from anywhere around the world to create and play a VR game. Such a person would not be needed to write even a single line of code. On the Voxels platform, there is a 3D design app, Voxels Creator, which is compatible with PC and Mac. There is also Voxelus Viewer which works on PCs and Samsung VR devices. The Voxelus Marketplace is designed to let creators of VR content sell and buy on the voxelus ecosystem with ease. You can only use Voxel (VOX) currency as a means of payment in the ecosystem.
Voxels' blockchain platform aims to merge VR and cryptocurrency technology. The platform helps users get easy access to VR, apps and 3D games. The platform is easy to navigate and use. All content here can be modified, shared, purchased and resold without the need for you using any coding expertise. On the platform, you will find real-time apps which allow users to play content which is currently being used by the latest VR technology.

The team behind Voxels cryptocurrency
Hasley Minor, an entrepreneur, is the person leading the Voxels' team. Minor is the founder of CNET. He is also a co-founder of Google voice, Salesforce.com, Uphold, OpenDNS and Rhapsody. The company has a development team which is led by Argentinian software guru, Martin Repetto. The business development and marketing teams are based in Los Angeles. The operations and development teams are based in Rosario, near Buenos Aires.
The performance of Voxels
In early April 2016, Voxels was commanding a price of more than $0.67. The market cap at the time was at zero. Unlike Bitcoin whose price was growing at a very gradual pace, Voxels was dropping towards a low of $0.008 in January 2017. However, the crypto started regaining at the start of 2017. When the cryptocurrency craze hit the market, Voxels surged to reach a high of $0.8 in January 2018. Market cap at the time stood at $166 million while 24-hour traded volumes were $72 million.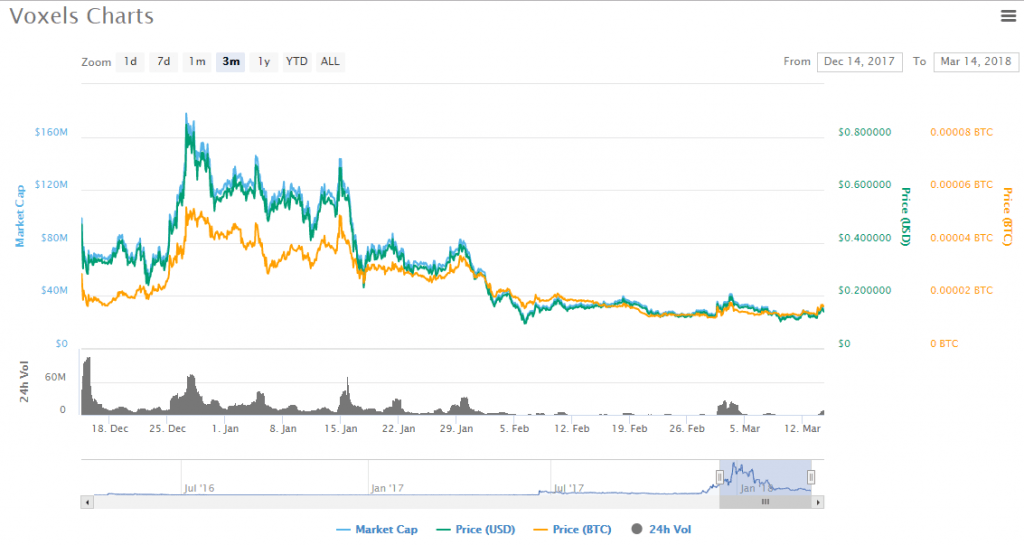 The performance of VOX in 2018 is consistent with that of major cryptos such as Bitcoin and Litecoin. Even though a majority of cryptos dived on February 6th, VOX's price dropped but marginally. The altcoin saw a rise in price and as at 1200 CET, 14th March 2018. It was at $0.13 while market cap stood at $28.9 million. It was ranked number 8 in 24-hour traded volumes category with $8 million.
The future of Voxels cryptocurrency
Currently, the value of VR market is $6 billion. Given that Voxels is a unique altcoin which has come to disrupt the VR market, it should be expected that growth to VR will ultimately mean growth to the crypto. It is estimated that the VR market value will surpass the $40 billion mark by 2020. When you do a rough extrapolation of the rise in value in this market, the value of VOX will be about $1.5 in 2020. As for the performance of the coin in 2018, if the crypto market is going to enjoy growth this year, then Voxels will certainly join the list of potentially profitable investments.