B3coin cryptocurrency started 2018 at $0.00044 price mark. Even though the price rose marginally to reach $0.00059 on 3rd, it fell to a low of $0.00026 on 6th of January. It seems 2018 will be a year where there will be a lot of price changes of cryptos just like 2017.
B3coin cryptocurrency is relatively new on the market. It uses the same open-source blockchain technology that is used on Bitcoin and other trending cryptos. It is decentralized and transparent hence making it easily auditory and accessible to the general public. This coin offers fast script algorithm POS which is at least 12 times faster and secure than the SHA-256 algorithm.
Understanding B3coin
This alternative coin is mined. However, unlike some of the 2017 cryptos, it doesn't use premine technique but goes instamine way. Premine is a deliberate mining process which tries to create a new currency and quickly selling the resulting coins at a huge profit. B3coin does not premine coin distribution. Mining of B3coin has been made simple. All you need to do is keep an updated wallet. The crypto offers to stake rewards of up to 10,000% per year.
The performance of B3coin
For the better of 2017, B3coin's price didn't go past the $0.1 price mark. In July, however, the price spiked and touched a high of $0.42. The price dropped in the following months only to spike again in September when it reached an all-time high of $2.17. Unlike the continued growth of Bitcoin, B3coin good ride continued for only a month. On 1st November 2017, the price was at a low of $0.00167.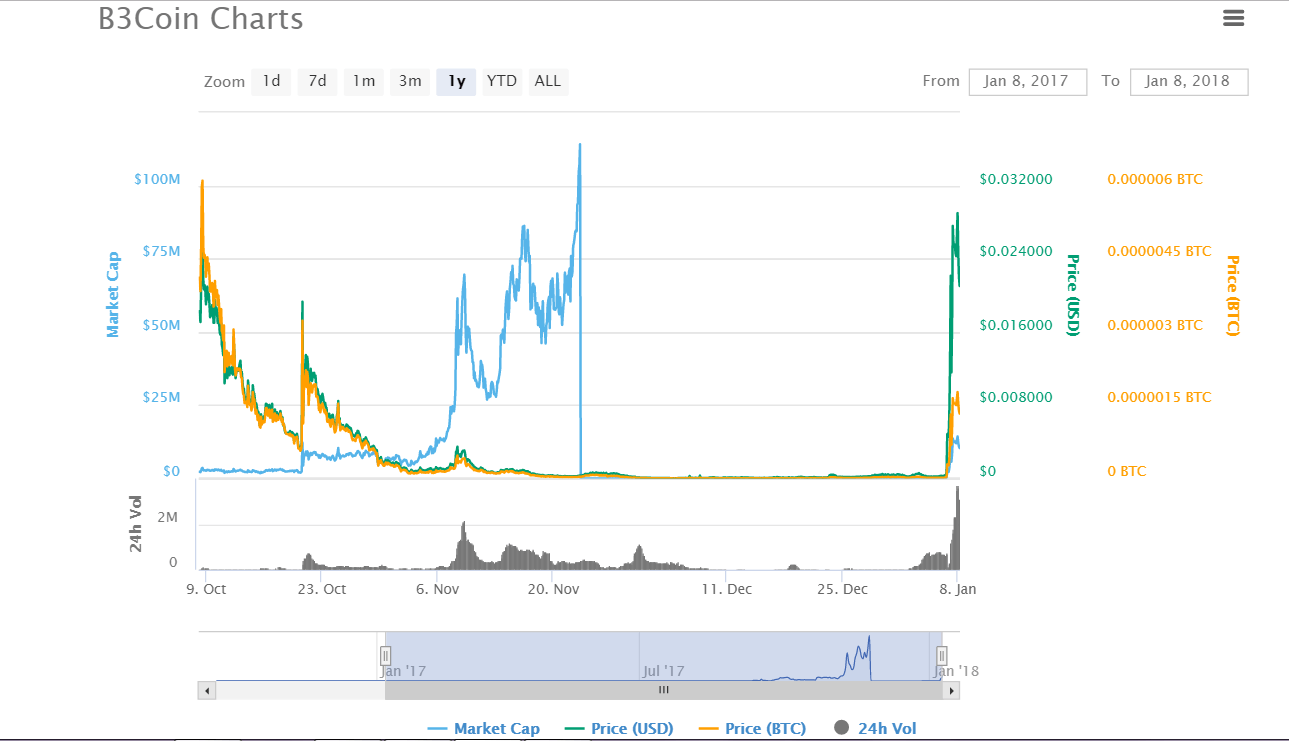 The price performance of B3coin continued to dip until December 31st when it reached $0.00044. A new year was expected to bring with it good tidings for the coin. For a few days, nothing happened until January 8th when the price reached $0.21.
The expected performance in 2018
Within the 1st quarter of 2018, B3coin intends to implement the Simple Payment Verification (SPV). This a technique allows a lightweight client to verify that their transaction is included in the Bitcoin blockchain. One doesn't need to download the whole blockchain. The company also wants to introduce an Android wallet app as well as launch on more exchanges such as Binance and Bittrex.
In the 2nd quarter of 2018, B3coin will implement core updates in coding. These updates will allow the crypto to implement SegWit. Consequently, this will make the network extremely fast. B3coin will be the first POS coin with SegWit and with Masternodes.
Is it a good investment?
B3coin seems to have gone through all the motions of a normal cryptocurrency. It has seen lows of $0.0001 and highs of $2.17 which is a 2.7million per cent. Its price has dropped again to touch a low of $0.00044. On the other hand, the developers of the coin have made announcements which are meant to make the coin stable price-wise. They are also working to make its algorithm and the way blockchain technology is utilized more transparent and easy.