After five months of a non-stop protest, it's not surprising that Hong Kong's tourism and retail numbers wend down drastically resulting in an overall recession of an economy.
Hong Kong's financial secretary, Paul Chan, mentioned in one of his interviews that the Asian financial hub has already reported a negative economic growth, which means that Hong Kong is experiencing "a technical recession", which, in other words, is two consecutive quarters of economic decline.
Exports have fallen for more than 7% in September compared to the same period a year earlier. And that's, according to Paul Chan's statement, is the largest quarterly drop over the last decade.
Moreover, analysts believe that the expected growth of between 0% and 1% is unlikely for all of 2019.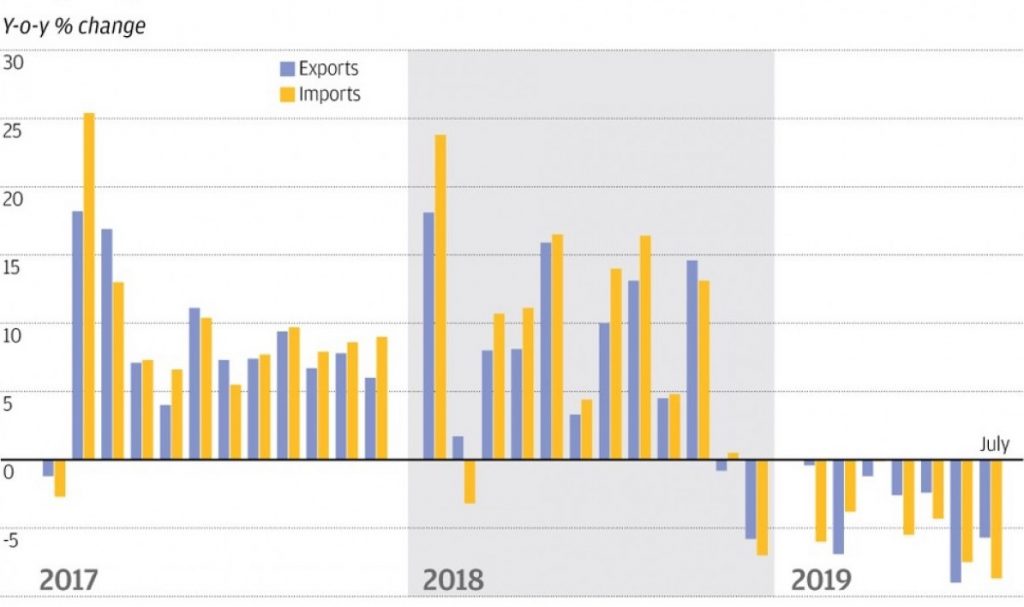 Industries affected the most
Hong Kong's economy has been shattered by the US-China trade war and China's economic struggle. Together with that, non-ending protests also played their part here. Visitors are not coming to the city as much anymore because of constant violent clashes between police and protesters, often at public and touristic places. Chan said that the tourist numbers plunged 37% over the last couple of months and the rest of the year is not promising either. The overall number of visitors to Hong Kong has declined by 50% compared to last year.
Hotels are lacking clients, they are only 2/3 full. The number of visitors staying in hotels has dropped by 28% compared to the same period last year. The retailing sector is also struggling a lot – more and more shops are forced to close early and open quite late in the day, some were even closed for a whole day several times over the past few months.
Some protesters took advantage of the situation and targeted shops, banks, or restaurants that they've viewed unsympathetic to their cause and smashed their windows, vandalized front windows, and so on.
The government is still trying to somehow balance out the current situation by decreasing the rent of properties leased by the Hong Kong authorities in half, providing free fuel to taxi drivers, and fee subsidies for ferries. The allocation of 2 billion Hong Kong dollars (or about $255 million) to provide support to small businesses and 19 billion Hong Kong dollars ($2.4 million) to help safeguard jobs and somehow ease people's financial burden.
Future forecasts
Despite a very troubling state of the Hong Kong economy, the city's financial markets seem to be okay. Thus, the Hang Seng Index (HSI) is still holding at a 4%-rate. The political crisis has not become a deal-breaker for many investors yet and they still see Hong Kong as a crucial gateway to the rest of Asia.
The IPO market is also in quite a promising state at the moment. For instance, in September, Anheuser-Busch InBev (BUD) listed its stocks on the Hong Kong Stock Exchange (HKXCF) and managed to raise $5 billion in the second-biggest IPO of the year (after Uber).
That, in turn, put the Hong Kong exchange to the third-highest position worldwide this year (after New York Stock Exchange and the Nasdaq). That means that maybe there is still some hope for the Hong Kong economy and we'll soon see its significant growth.