According to IMF (the International Monetary Fund), the US government should not rely on the economic growth predicted earlier this year.
It was already announced that the expected economic growth in the United States in 2020 was decreased by 0.1% due to rising trade and geopolitical issues. That puts the economy of the country in a precarious position, as the growth percentage has never been so low during the global financial crisis.
Considering the fact that the previous economic forecast was made in July 2019, those predictions were, let's say, a bit more 'iridescent' than the nowadays reality.
Now, the economy is expected to grow by 2.1% next year, which is far lower than 4% promised by Donald Trump during his presidency. And let us notice that it is also lower than the economic growth of 2.4% in 2019. Together with that, forecasts released at the Federal Open Market Committee meeting show that the unemployment rate in the United States will increase from 3.4% in 2019 to 3.7% in 2020 and 3.8% in 2021. Meanwhile, inflation rate will rise from 1.5% in 2019 to 1.9% in 2020 and 2.0% in 2021.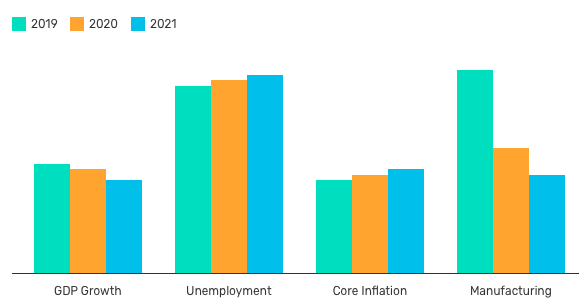 The main reason for that all is the trading policy of the United States. Even a boost from a recent two-year federal budget deal and Federal Reserve's rate decrease would not hamper the US economic growth much considering the current situation.
IMF states that we should not await the 'broad-based' economic recovery in the US in 2020. However, the forecasts are more promising for distressed emerging markets like Argentina, Turkey, and Iran.
What can be done?
Shortly, stopping the trade war between the United States and China would be the only way to balance out the economic situation of the country. Even though discussions and certain agreements between two countries last week set the path towards recovery, that is definitely not enough. Especially considering the fact that this comprehensive deal still remains elusive.
That is impossible to rely solely on central bank stimulus when hundreds of billions of dollars worth of goods were withdrawn from economic span with tariffs.
'Monetary policy cannot be the only game in town and should be coupled with fiscal support where fiscal space is available and where policy is not already too expansionary,' says IMF.
Moreover, the report released by the OECD says: 'The U.S.-China measures could reduce global GDP growth by between 0.3-0.4 percentage points in 2020 and 0.2-0.3 percentage points in 2021.'
There is a trend nowadays for big central banks to push the interest rated down to make it negative and stimulate the country's economic growth. For instance, the ECB (European Central Bank) has already established its benchmark rate below zero to minus 0.5%.