Asch altcoin which is based in China was launched in the early months of 2017. The cryptocurrency is designed to allow users/ developers to program their own decentralized apps (dApps) with ease. This platform relies on blockchain technology to store data. Adopting JavaScript as a development language using this Ethereum-based platform has been made extremely easy. Asch is an open platform which focuses on finance, document storage and copyright proof. It also provides a series of underlying and abstract APIs which can be combined and used to establish a wide array of apps.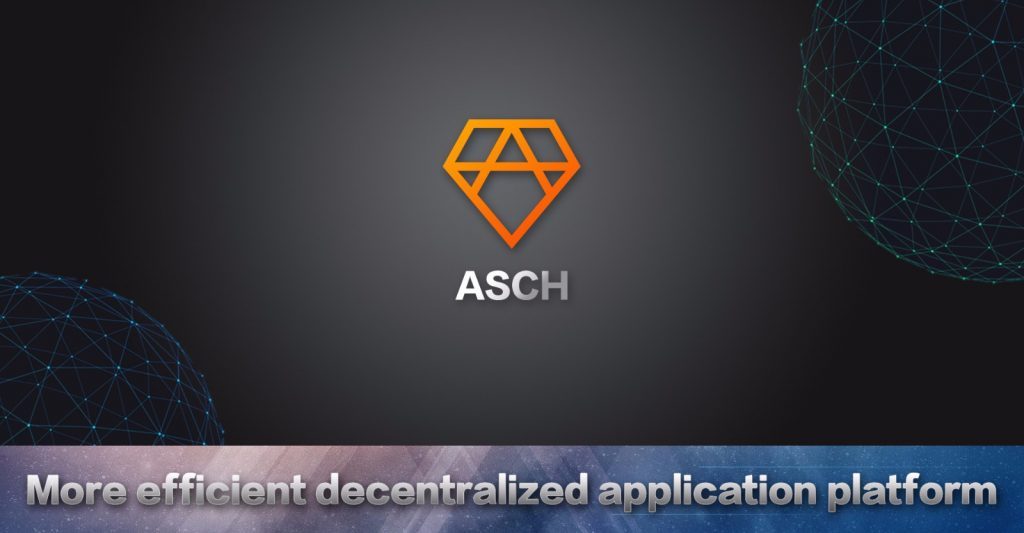 How does Asch cryptocurrency work?
Asch altcoin which carries XAS as its ticker symbol utilizes enhanced DPOS algorithm in its consensus mechanism. This helps at reducing the probability of block fork and also the risk of making duplicate payment. The sidechain is application mode of Asch which alleviates the issue of inflation from the blockchain and also makes dApp more characteristic and resilient. Asch comes across as a low-cost, one-stop solution which will serve as the next generation decentralized applications' stepping stone.
Programmers can employ a series of SDKs and APIs when they are creating dApps for whatever project they are working on. On the whitepaper of the company, there is a suggestion that the product will be ideal for large enterprises as well as independent developers. This is mainly because the programming interfaces are stable and functional. The developers of the crypto say that these interfaces will be implemented using SQLite and JavaScript. The interfaces of Asch are such that programmers will be accessing a sidechain rather than a blockchain. A sidechain comes with the advantage of offering parallel blockchains which are connected to a central one. This offers efficiency in storage and retrieval of large amounts of data becomes easy.
The performance of Asch altcoin
Like many of the cryptocurrencies in 2017, Asch was attracting a low price. Up until mid-2017, the crypto had only touched $0.1 maybe once or twice. Upon the cryptocurrency craze setting in, the price of the coin started to rise to reach a high of $1.89. The highest market cap reached in 2017 was $156 million and the highest 24-hour traded XAS for the same year were worth $41 million.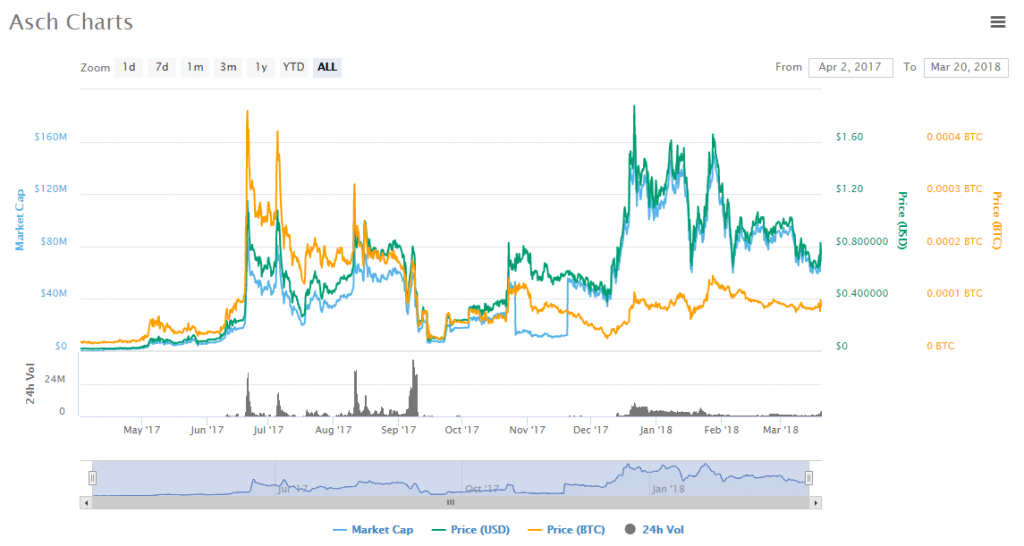 In 2018, XAS started at a high price of $1.28 before rising even higher to touch $1.71. On February 6th, the cryptocurrency market dipped and more than half the value of the entire crypto market was lost. Unlike Ripple and Bitcoin which are seen as the market leaders and which shed a lot of dollars, XAS's lowest price on that day was $0.6. The crypto recovered some of the lost value and since then it has been oscillating between $0.7 and $0.9. On 19th March, the coin managed to reach a high of $1.05 but closed at $0.83. Market cap as at 19th was $66 million. On the coinmarketcap market, XAS was among the best performers when 24-hour trading volumes were considered. The volumes traded as at 0900 CET stood at $4.5 million.
The prediction for 2018
For programmers looking to create dApps, Asch seems to be a good platform to start at. The platform offers functional yet secure JavaScript code which can handle all the low-level transactions which one might need to create this kind of software. Programmers can also verify the quality of the software. dApps are increasingly becoming popular and Asch will certainly gain from this.