Since December 9, Ripple has enjoyed incredible growth. In just a few days, it has grown by over 318%. The market cap of $31.2 billion helped edge away Bitcoin Cash to the fourth place for several hours in the past week. Currently, the crypto is fourth after Bitcoin Cash overtook it to take the third place. At the current rate of growth, this is a cryptocurrency to watch in the coming weeks.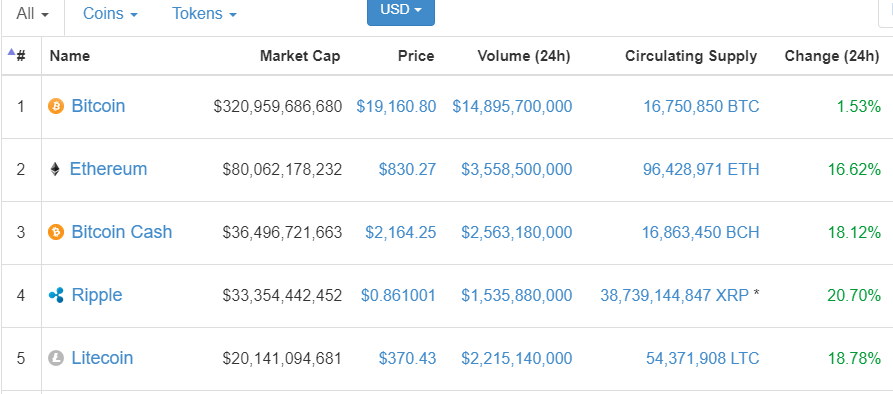 Understanding Ripple
Ripple is a technology which is designed to act as a cryptocurrency and also as a digital payment network for financial networks. It is a pre-mined currency and its ticker symbol is XRP. The cryptocurrency was founded by Chris Larsen and Jed McCaleb in 2012. To help in finalizing financial transactions, Ripple uses a medium called Gateway. The gateway acts as a trust credit intermediary that receives and sends money over the RippleNet network.
XRP currency is used as a bridge to other currencies. It is used for both Fiat and cryptocurrency transactions. Each and every currency in the network uses its own unique gateway. If for example, John wanted to receive Ethereum coins for the services rendered to Kate, Kate can send Australian dollar. John will receive ETH on his end.
The growth of Ripple and its current position
Ripple cryptocurrency is designed to use blockchain technology to speed up cross-border money transfers and bank settlements. At the moment, most of the transactions are facilitated on Swift which is quite old, slow and expensive. The simplicity of this cryptocurrency has attracted financial players and this is what is making it rise at a fast rate.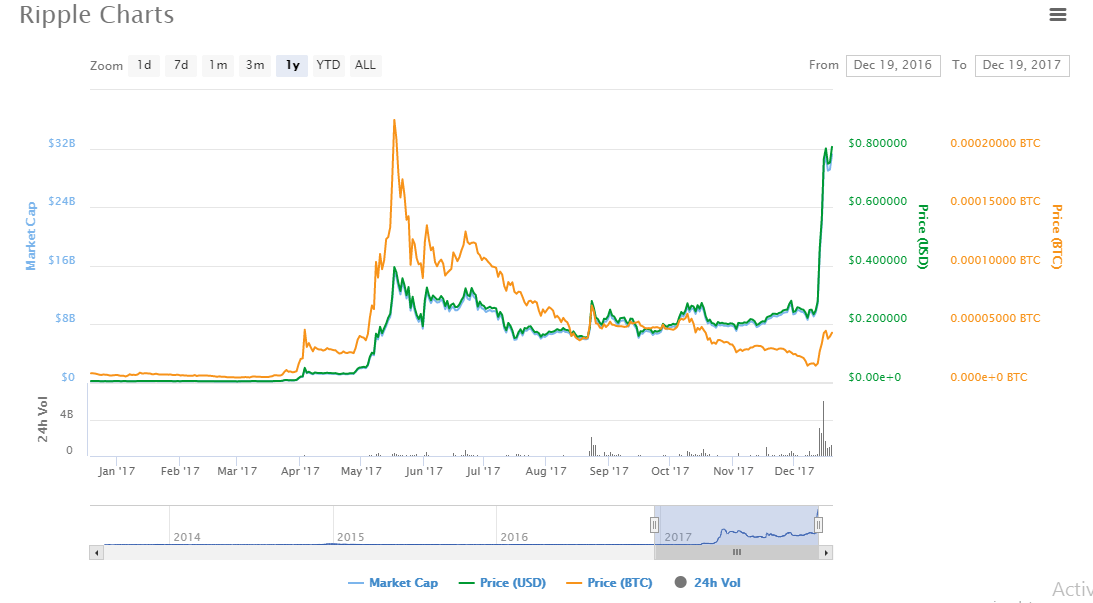 At the start of 2017, XRP was trading at $0.0065 or 0.00000714 BTC. Its market capitalization then was $230 million. This still qualified the crypto as a big player. The market cap has since reached the $33.3 billion mark. Over the past months, the price of this currency has also gone up steady until December 12 when it started a steep rise. Within days, the price touched a high of $0.8. However, the price of the crypto in BTC rose just marginally from 0.0000148 to 0.0000428 BTC.
Reasons why Ripple is going to overtake Bitcoin
According to Ripple CEO Brad Garlinghouse, the rise of Ripple as a cryptocurrency has been made possible because the market understands it better. He adds that the markets appreciate the realities of digital assets performance in terms of speed and throughput. There is a lot of excitement around about XRP's potential. This is especially so because it is uniquely positioned to deliver on its promise.
Ripple is designed to work with banks. It claims that banks will save up to 3.76%per payment when they opt to use the crypto. While a segment of the market says the price spike of 46% XRP enjoyed on December 15th was because of the upward trend of Bitcoin, some analysts don't agree. The rise of Ripple can be explained partly by the general performance of the cryptocurrency market and Bitcoin in particular. However, its partnership with credit card company American Express certainly played a big role. Ripple accounts for only 4% of the global crypto market of $488 billion. The measures taken by the firm will certainly see the XRP's share rise.