Many people only know of Bitcoin and a few other altcoins yet there are hundreds of cryptocurrencies in the market today. Many companies which want to raise money through ICOs are failing to achieve their goal because the right people aren't getting information. Conversely, people seeking ICOs often struggle to find the right and accurate information about new and upcoming ICOs.
Zilla project seeks to act as a gateway for all crypto fans to easily and safely participate in the many vetted ICOs. On the other hand, companies will be able to conduct effective ICOs. Zilla cryptocurrency whose ticker symbol is ZLA seeks to present a platform where difficulties faced by crypto enthusiasts and companies during ICOs are erased.
How does Zilla platform work?
Currently, there is no central authority which acts as a reference point for crypto enthusiasts especially when they want to learn about new altcoins. Investors have to do their own personal research and trust their personal judgment when making crypto-related decisions. Because of the way the market is disjointed, scams and fake crowdsales have found a chance to thrive. The time it takes for an investor to individually vet Bitzeny, Matryx and others is a lot and chances of ending up with the wrong information about an altcoin is high.
A unified marketplace is offered by Zilla where quality ICOs are given priority. The entire process becomes extremely easy for both investors and companies. Zilla brings ICO crowdsales to the regular investor in the form of a simplified app. With this app, crypto enthusiasts get to access a comprehensive list of properly vetted ICOs.
According to Abasa Philips, founder of Zilla, the platform will let users access and evaluate the general public opinion on each and every ICO. The platform will also come with an upvote/ downvote system where scams will rank at the very bottom in the ICO list. The voting mechanism is also meant to give a user an idea of whether or not an ICO has the potential to grow big.
The benefits that Zilla presents
Google and Facebook recently banned all Bitcoin-related ads on their platforms. While cryptocurrencies, in general, are very volatile, their case is not helped by the fact that almost as many scams as genuine altcoins exist out there. For starters, Zilla requires that each ICO team fills out a full Know Your Customer (KYC) before their project gets listed. Any ICO team with shady history or unprofessional business practices will automatically be banned from Zilla platform.
Tomoni Yamashita who formerly worked at American Express, Merrill Lynch, and Citi is the compliance officer at Zilla. Such an accomplished compliance advisor will help the team achieve its goals easily and efficiently.
The performance of ZLA
Until February 16th, the market cap of the altcoin was zero before it shot up to reach $16 million. At that time, the crypto was enjoying a bullish streak and the price was in the range of $0.4 and the volumes moved were in excess of $2 million. The value of ZLA has been dropping over the past weeks and on 29th March, it closed at $0.161 while the market cap was slightly below $8 million. In the early morning hours of Friday, the crypto was trading at $0.16 while volumes traded stood at $2.6 million.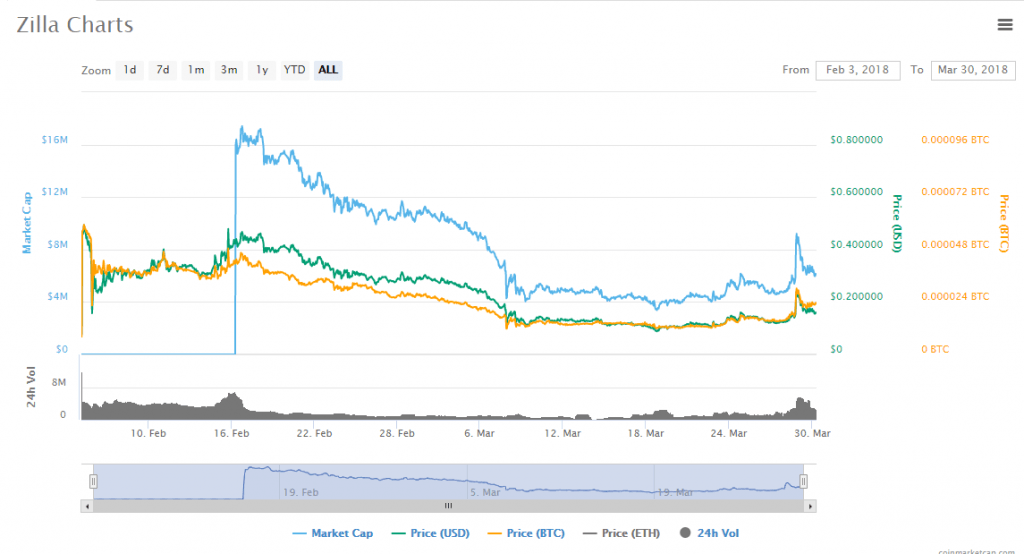 Is it a good altcoin to invest in?
One has to agree that what Zilla team aims to achieve is brilliant. The platform is easy to adopt and use for most people. In a world where crypto is viewed suspiciously by governments and a majority of mainstream investors, having a way to vet all cryptocurrencies will go a long way in making crypto more acceptable by all. It has the potential to grow but it will certainly encounter hurdles along the way.