The cryptocurrency market has dropped $20 billion in four days proving that the market is still highly volatile. The market which was commanding a value of $427 billion on Friday, May 11th had dropped to $403 billion in early morning hours of Tuesday.
Bitcoin struggling to stay above $8,500
The price of Bitcoin has struggled to stay above the $8,500 mark since Friday, May 11th. Even after surpassing the $8,700 on May 13th, the crypto went ahead and shed some value to trade at $8,300 at some point on May 14th. The market started to recover as Bitcoin price rose to pass the $8,500 on Monday 14th. Even the Ontology (ONT) tokens recorded gains of up to 30%. The market continues to struggle to not go below $400 billion mark.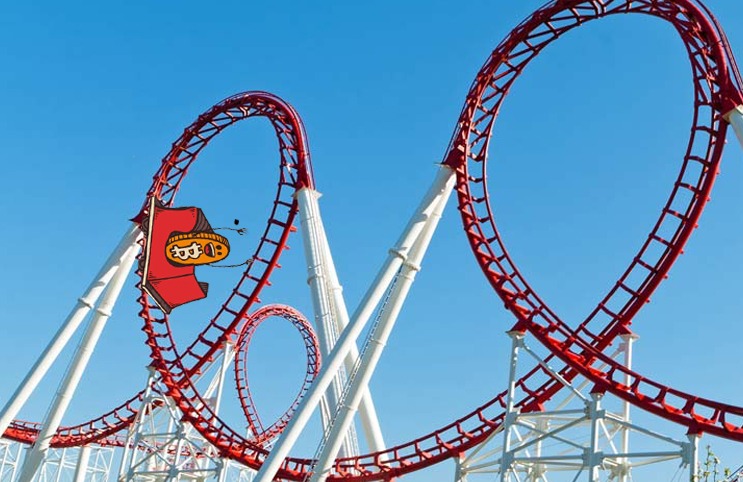 Big banks and other financial institutions have invested in major cryptocurrencies such as Bitcoin and Ethereum, according to a cryptocurrency analyst and researcher Mathew Newton. His sentiments were echoed by Steve Chiavarone, a portfolio manager at the $364 billion investment firm, Federated Investors. In an interview with The Express, Newton said that the entrance of major banks in the cryptocurrency arena could trigger institutional demand for the digital currency to rise. This would then allow the market to rise to its previous highs.
Even though the banks were pompous towards cryptocurrency before, the reality today is that big banks have started investing heavily in research and development of blockchain technology and even cryptos. Admittedly, it will take some time for institutional investors fully come around. The fact that Goldman has said it won't be dealing in the actual selling or buying of cryptos shows that skepticism about cryptos still exists. But generally, the acceptance of cryptocurrency is growing and many agree that it is here to stay, Newton observed.
The performance of Bitcoin
Many traders believe that Bitcoin and cryptocurrencies, in general, will recover and the market will go back to where it was in early Jan. This will happen following the Blockchain Week in New York which marked the start of Consensus 2018. In the past week, no major movement has been recorded in the crypto market. If Bitcoin is unable to stay above the $8,500, Litecoin and other major cryptos will continue to drop throughout the week. However, if Bitcoin moves towards $9,000 price before the week comes to an end, then the crypto market could experience a surge in volume and this could lead to an inflow of new capital.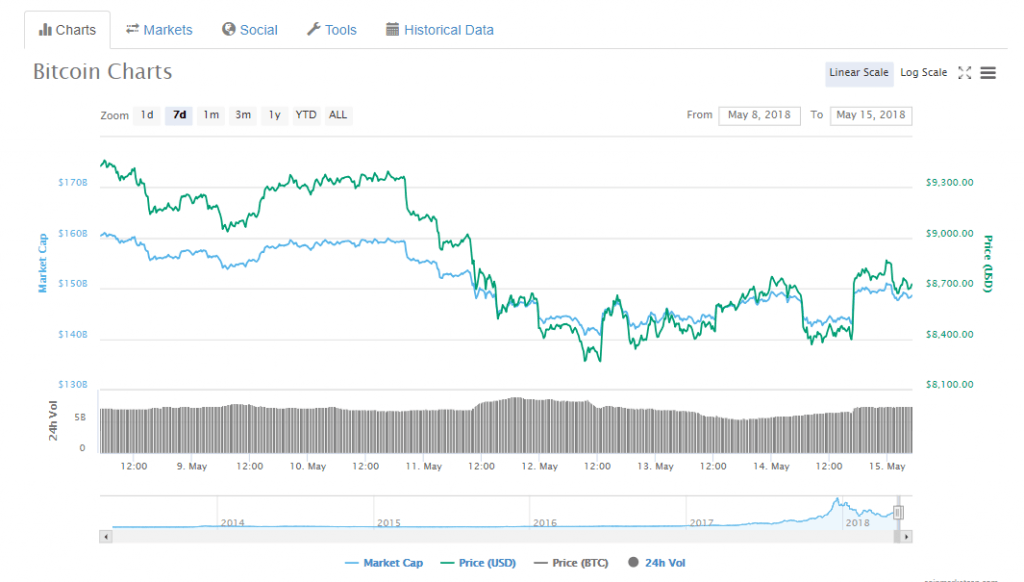 During the late hours of Monday, May 14th and early hours of Tuesday, Bitcoin managed to stay above $8,700. In fact, the market cap of Bitcoin has gained more than $5 billion from a low of $143 billion on Monday afternoon to reach $148 billion on Tuesday morning. It seems likely that Bitcoin will touch the $9,000 mark or test the $8,000 in the short-term after all.
The performance of other cryptocurrencies
Tokens such as SALT, Storm, and Ontology have already recorded major gains against both the USD and Bitcoin in the last 7 days. Given that tokens do experience intensified movements on the upside and downside, the market value of most tokens will depend highly on the short-term performance of Bitcoin and, of course, Ethereum.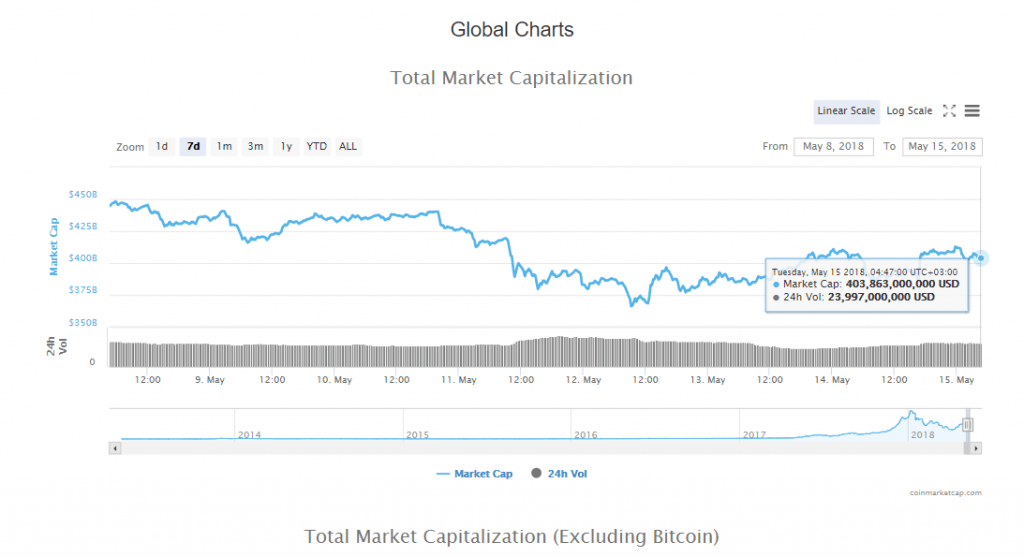 Currently, Bitcoin's market dominance stands at 36.7%. This stands as proof that small altcoins are already outperforming major digital assets. With the market conditions improving in the coming days, tokens such as EOS, Storm, and Ontology which have high volumes on major cryptocurrency exchanges are highly likely to perform better as compared to Bitcoin.