On November 1st, 2017, the price of IOTA was $0.3875. In just seven weeks, the price has spiked to reach $5.15. Even Bitcoin which has usurped headlines and valuations has not achieved such a tremendous price surge. The market capitalization of the MIOTA coin on 1st November was barely touching the $1.1 billion mark. Several weeks later, the market cap has jumped to surpass the $14 billion high.
What is IOTA?
In 2015, IOTA which is an open source crypto was launched. It provides secure communications and payments between machines on the Internet of Things (IoT). According to a past blog post by the co-founder of the coin, David Sostebo, the launch of this coin was to bring about a 'paradigm shift' to the Internet of Things by presenting people with a de facto standardized ledger of everything. Irrespective of the size of the transactions, IOTA doesn't charge a fee. Its other good feature is that confirmation times of transactions are very fast.
How does IOTA work?
Unlike Ethereum and other popular cryptocurrencies, IOTA does not use blockchain technology. The crypto has instead developed a unique platform called Tangle. Tangle uses a mathematical concept known as Direct Acyclic Graphs (DAG) to help the system run smoothly. Each and every DAG Tangle must approve 2 previous transactions found at another node for a transaction to be valid. This essentially removes the need for miners for the process of validation of transactions. This technology also helps remove the bottlenecks when transaction numbers are high and the higher speed is required.
Compared to other cryptos, how good is it?
The Internet of Things (IoT) is a growing technology is spied on by many leading investors and conglomerates. Companies such as Google, Cisco, and VW have already invested in this technology. There are many more deals lined up which will certainly make the MIOTA market cap and price grow bigger. The IoT market will be worth over $470 billion by 2020. This is according to consultancy firm Bain.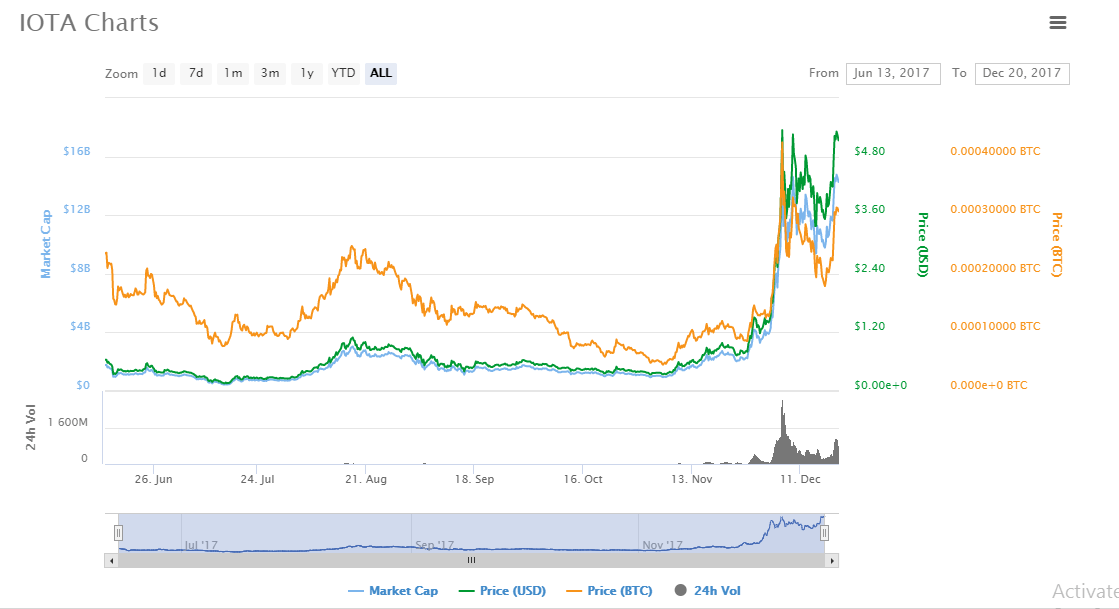 IOTA leads in the IoT technology followed by Streamr Data coin which is worth about 1% of IOTA. Unlike many of the new cryptocurrencies in 2017, this crypto is backed by the IOTA Foundation. The foundation builds sustainable ecosystems around the crypto in order to accelerate its development as well as commercial adoption as an open source technology. The other thing that makes this alternative currency stand out is that its coins have been pre-mined and they total 2,779,530,283 MIOTA.
Is it a good investment?
There is no doubt that the Internet of Things is going to take the world by storm sometimes in the future. However, there is a chance that this is not going to happen in the next one year. This is mainly because the attention will be more on the growth of blockchain cryptocurrency or lack of it. Investors who are looking for slight changes in price in the cryptos might not like to invest in IOTA for now because 2018 may not be very bright, especially since best crypto brokers still do not offer IOTA trading.