Is Komodo (KMD) a legitimate investment in 2018?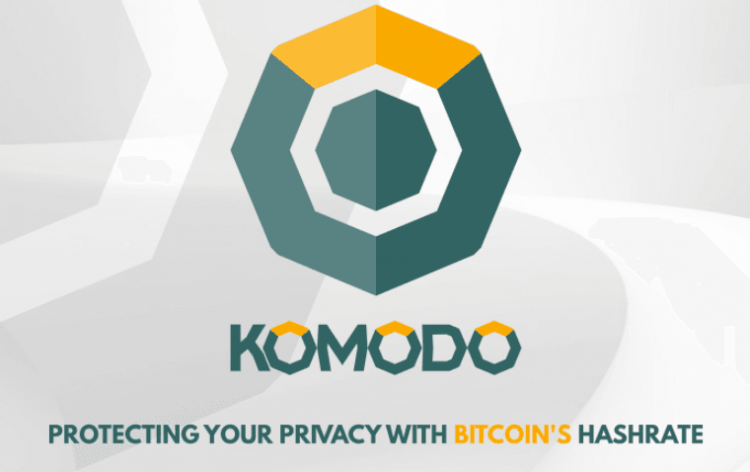 Every other day there is a new cryptocurrency being introduced in the market. Most of the cryptos are just clones of Bitcoin while others are built on a unique and different foundation. Komodo cryptocurrency whose ticker symbol is KMD is a crypto which has enjoyed several ups and experienced some lows over the past months.
Komodo cryptocurrency uses blockchain technology just like many of the new cryptos of 2017. However, this platform offers much better security and decentralized hosting of blockchains. Because privacy is such a valued asset here, the team members of the coin use pseudonyms. The enhanced security is achieved using the Bitcoin's blockchain 'delayed proof of work' technology. With this crypto, you get to enjoy multiple wallets and pegged assets. It is an open-source alternative coin and this means that transactions are transparent, private, anonymous and fungible.
Understanding Komodo KMD cryptocurrency
Komodo is a project of SuperNet blockchain. Just like Zcash, this crypto uses the sk-SNARK protocol which improves the way a cryptocurrency works. Komodo became the first crypto to issue a decentralized initial coin offer (dICO). There are 200 million fixed coins of which 100 million were pre-mined and distributed during the ICO. The remaining 100 million coins are mined through the proof-of-work (POW) algorithm.
The performance of the crypto
Komodo ICO was done between October 15th, 2016 and November 20th, 2016. The total amount collected was 2,639 BTC which at that time was equivalent to $1.98 million. As of February 11th, 2017, the KMD was trading for $0.113. The market cap for the coin stood at $11.38 million. In the course of the year, the coin once reached a high of $3.63 in Sept and market cap of $242 million in June. But that was before the cryptocurrency market exploded and the prices surged to an all-time high.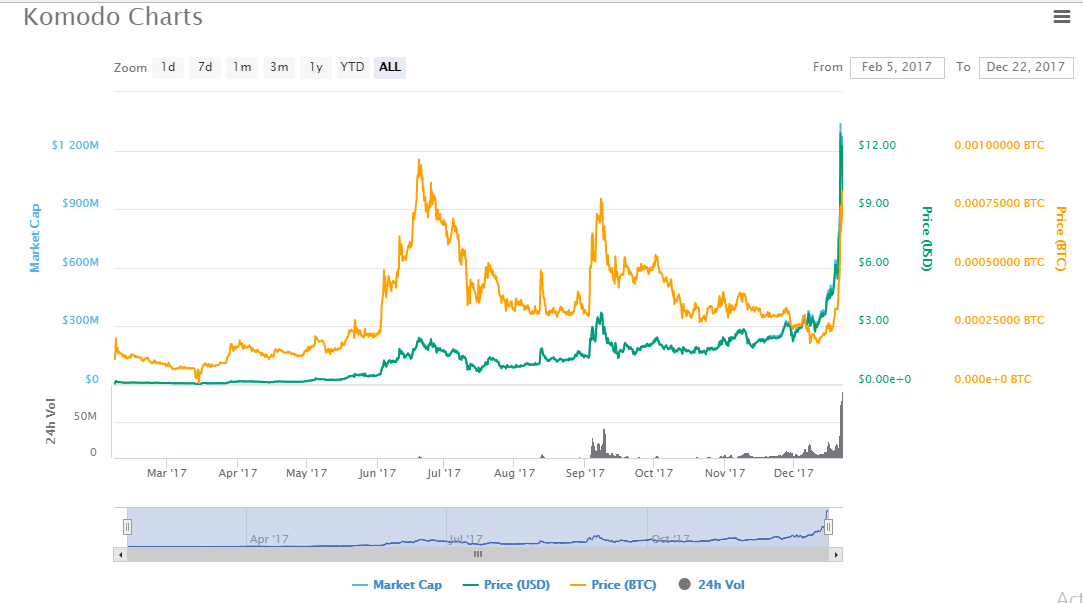 On December 10th, Komodo was going for $2.73 while its market cap stood at $283 million. On 21st, the coin reached an all high of $12.68. Market capitalization touched a high of $1.24 billion on 22nd. In just over two weeks, this coin grew by over 460%. This makes it one of the biggest gainers in the month of December 2017.
The future of Komodo
This crypto offers security and ease with which investors can trade using it. This can be done using any one of the Kimodo approved wallets such as Ledger NanoS and Agama Wallet. Many of the smaller cryptos are relying a lot on their own communities. This way, the value of a currency isn't threatened to fall to zero. Unlike Monero and Dogecoin which have strong communities, Komodo seems to have a dormant community, especially on social platforms. There is an announcement on the official website, however, saying that the firm is working to revamp the website and the coin's online presence.
Will it be a good investment in 2018?
There are several things that make this coin a much better deal than many other cryptos. It is secure for starters but on top of that, it is a pioneer in the crypto market. Even though it gained immensely from the latest Bitcoin bullish move, it can stand on its feet in 2018 even if there will be strong currents.
By Michael Henris
More content by Michael Henris