Decent cryptocurrency is a content distribution network which is decentralized. The crypto is an open-source P2P platform and utilizes blockchain technology. It is designed to distribute different types of media such as software, video, audio, video games, and text.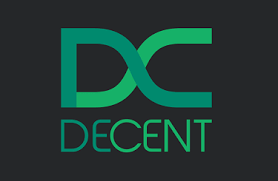 The crypto is meant to help people in places where accessing the media they want is difficult or restricted. The Decent platform will help the users bypass all barriers and middlemen hence allowing them to directly access content from anywhere in the world. The platform is designed for creative people such as publicists, bloggers, authors and also their fans. The platform will also be used to bridge the gap between various industries and the emerging blockchain technology.
How does the Decent crypto work?
The authors of content on the Decent ecosystem will build their own reputation based on the reviews they get from users. The reviews can only be made when a person has logged in to the system. The authors will be able to price their content and the transactions will be conducted using DCT currency. The crypto which utilizes BitTorrent algorithm will ensure that security, privacy, trust and anonymity are enhanced. Cases of hacking, cyber-attacks will be highly mitigated on this platform since every transaction will undergo a validation process.
The performance of the Decent cryptocurrency
The Decent digital currency project was launched in 2015. However, it was listed on coinmarketcap in mid-2017. Like it was with many cryptocurrencies which follow Bitcoin's performance, DCT's price spiked in late 2017. Unlike Bitcoin which reached its highest price of $20,000 in December, DCT touched its all-time high of $3.5 on January 5th, 2018. Its highest market value of $158 million was touched a few days later. As of April 10th, the market cap for the altcoin was $20 million which is a loss of more than 1,200% since its high of $158 million.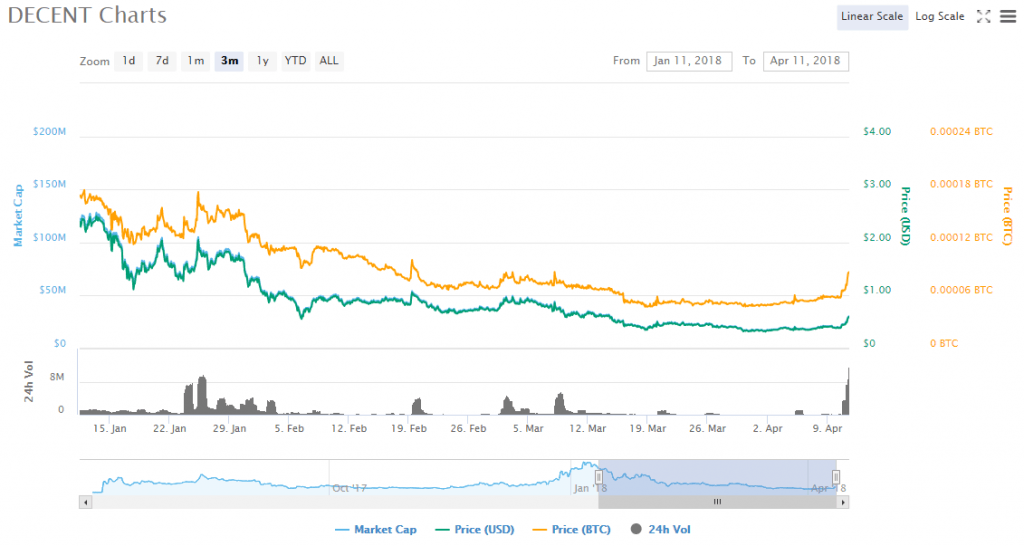 On September 18th, the volumes traded were $1 million and a month later it was just $66,546. Such has been the trend with the Decent crypto. As of April 9th, the traded DCTs were $326,139 but a day later the volumes jumped to $3.7 million. More interestingly is that in the morning hours of Wednesday, April 11th, the volumes were at $11 million while the price gained by 54% to reach $0.6.
Is it a good investment?
Decent cryptocurrency is unique in several ways. It wants to help people in places like China and Sudan access information which the governments of these countries restrict. This is a step beyond what major cryptocurrencies offer. Generally, cryptos let users enjoy anonymity, security and low cost while transacting. It is important to note that China recently announced its intentions of banning all cryptocurrency and ICO related websites in China, including foreign websites. Remember that websites such as Facebook and Google face extreme restrictions in the country.
Decent cryptocurrency is growing by the day. Earlier in April 2018, it opened a new office in Shanghai. The team behind the crypto is quite active on social media and is also responsive when asked questions. Once the Decent crypto manages to penetrate the market and is able to deliver different types of media to people from around the world, its price will surge. Until then, it remains one of the cryptos to watch closely.