It goes without saying that cryptocurrencies are the most talked about assets today, at least in the financial world. While 2017 was the year when countless cryptos entered the market, 2018 can be said to be the year of reckoning for cryptos as countries like India are flexing their currency regulatory muscles. Still, it was in early 2018 when many of the cryptos rose to reach new heights in terms of price, volumes and market cap.
The performance of cryptocurrencies in week 12 has been interesting. Many of the top performers are new entrants into the market. We are going to look at those cryptos whose volumes were a bit substantial. This is not to say that cryptos such as High Voltage with a volume of $251,403 and which grew by more than 500% in the past one week are not worth looking at.
The top cryptocurrencies of the week
ICON (ICX)
ICON is one of the relatively new cryptocurrencies in the market. It was launched towards the end of 2017. This alternative currency is designed to be a mega ecosystem which allows different blockchains to connect to one another using ICON's protocol. In other words, it is a blockchain which will allow banks, hospitals, insurance firms, car makers and universities share information with ease and with no intermediaries.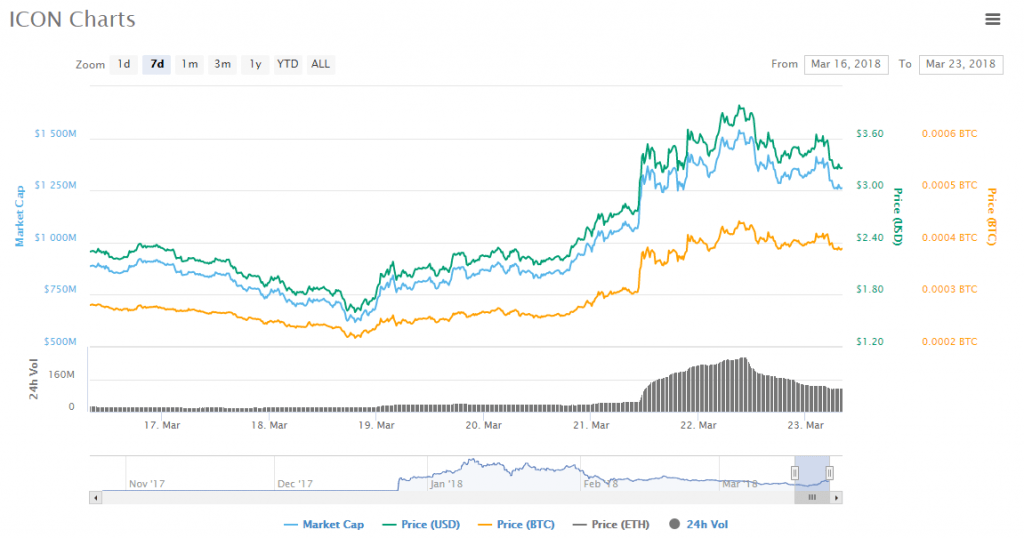 On March 17th, the price of ICO was hovering around the $2.2 mark. Market cap on that day was $868 million while volumes traded were $25 million. In the course of the week, the crypto has appreciated reaching a high price of $3.99. The ICXs traded by close of the day (22nd) were in excess of $132 million while market cap stood at $1.34 billion. Early hours of Friday saw the price of the crypto drop slightly to $3.26 while volumes were $116 million, a 48% rise from last week.
IoT Chain (ITC)
This Chinese altcoin rivals IOTA in a couple of ways. First, it doesn't use DAG but rather it breaks DAG into small pieces and combines them to nodes while using PBFT. The blockchain is 10,000 faster than Ethereum. The crypto aims to solve problems associated with data control, security, stability and use of artificial intelligence.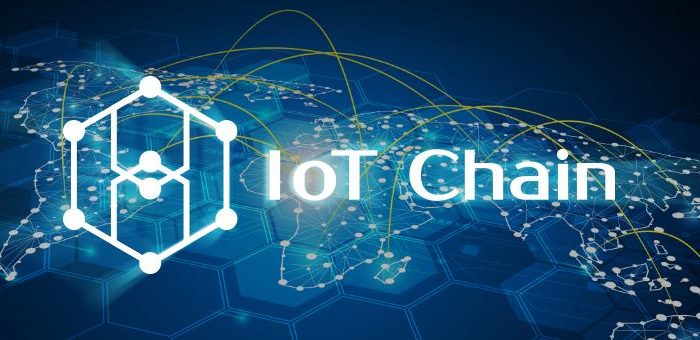 ITC has moved from commanding a price of $0.75 to a high of $1.23 within a week. The volumes traded on 17th March were slightly over $5 million while the market cap was $38 million. In the early morning of Friday 23rd, the price of the crypto was $1.1 and 24-hour traded volume was $8.3 million which was 43% rise over the week.
Loopring (LRC)
Like Bitcoin and many other cryptocurrencies, Loopring is a decentralized altcoin. It is an exchange protocol built on Ethereum blockchain. The crypto is designed to allow its users to trade assets across all exchanges. While it is not a decentralized exchange, it facilitates decentralized exchange through ring sharing and order matching.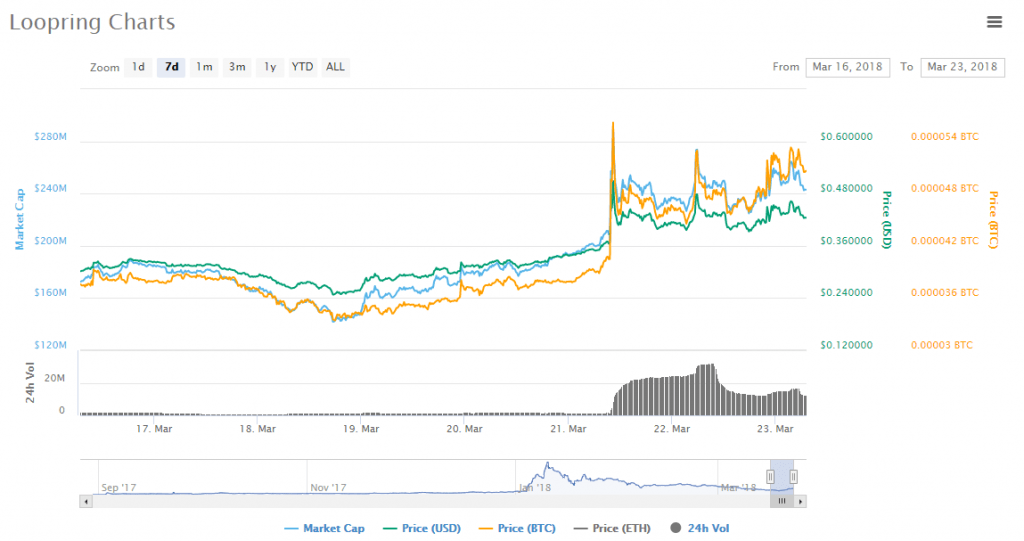 In early morning hours of Friday, the crypto was trading at $0.43 while its 24-hour traded LRCs were $14.1 million. This represented a rise of more than 40.5% since March 17th. The volumes traded on 21st were $24 million compared to $1.8 million traded a week before.
Times New Bank (TNB)
TNB is among the cryptocurrencies which were launched in 2017. It is meant to help establish a time-value transmission network. The network pays close attention to pricing transparency, payment flexibility, prominences of decentralization and internationalization.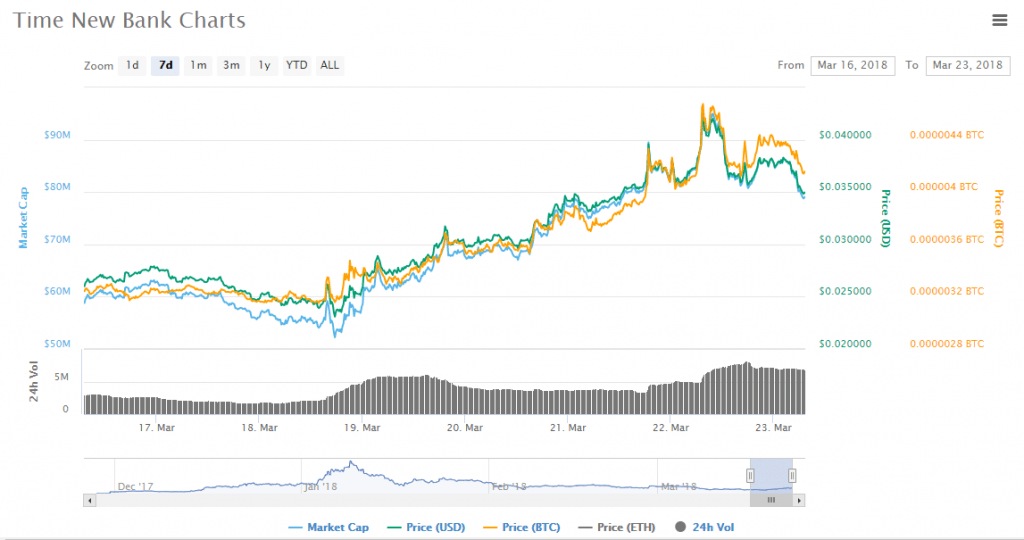 On March 17th, TNB closed the day at $0.025. The volume traded on that day was $1.87 million while the market cap stood at $60 million. Over the week, the price of the coin has risen to reach a high of $0.04 on Thursday. On Friday morning, the coin was trading for $0.035. The volume of coins traded at the time was $7.0 million and this represented an increase of 33% over the past seven days.
EOS (EOS)
EOS cryptocurrency functions quite like to Ethereum. However, it makes the development of dApps easy by providing operating system-like set of services. EOS is designed to bring the best features of Smart Contracts technology together. It is scalable and simple to use hence its popularity.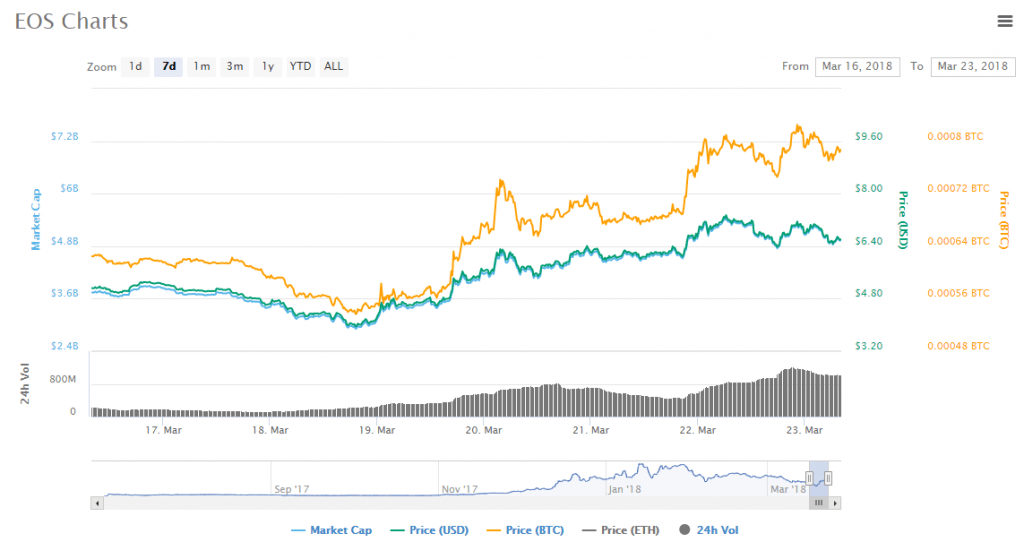 On March 17th, EOS was going for $5.11. Market cap at the time was $3.7 billion while volumes traded were $140 million. Over the week, the coin altcoin has grown steadily to reach a high of $7.34 on 22nd March. Even though the price had dipped to $6.65 on the morning of 23rd, the volumes traded were still high at $1.03 billion which represented a rise of more than 27% since last week. The market cap had dropped to $4.9 billion from $5.2 billion which it had touched the previous day.