SmartCash is a relatively new cryptocurrency which was launched around mid-2017. It was forked from the Zcoin crypto. This crypto was introduced into the market just when Bitcoin was starting to gain the current upward momentum. While many people were rushing to buy a piece of Bitcoin, some were looking forward to a chance to own a piece of the new SMART coin.
What is SmartCash coin?
The developers of the SmartCash cryptocurrency introduced a Smart reward program. In the program, you will need 1,000 SMARTS in your e-wallet and hold them from the 25th of one month to the 25th of the next month. When you do this, your e-wallet will be credited with SMARTS using the SmartRewards Plan. The reward points you get will be proportional to the amount you are holding in your wallet.
Just like a majority of cryptocurrencies launched in 2017, SmartCash crypto offers its users an incentive program called Smart Hive. This program allows anyone who happens to hold SMARTS to have a say about the fate of the crypto's blockchain. The leeway given SMART holders can be on how the budget for the Hives will be managed. It can also be on what features and apps can be developed by the head developers. It is an interactive crypto and to some extent, it is similar to Dogecoin.
The performance of SmartCash cryptocurrency
SmartCash crypto is designed and developed on the premise of decentralization and privacy of the transacting parties. The privacy feature is further enhanced by SmartCash with a feature called Smart Privacy. With this feature, you get a chance to destroy your current hold of SMARTS and replace them with new ones at a small fee. This is done within a few minutes. This has seen the coin grow more than the average alternative coins. Its market cap as of 16th January 2018 stood at more than $532 million.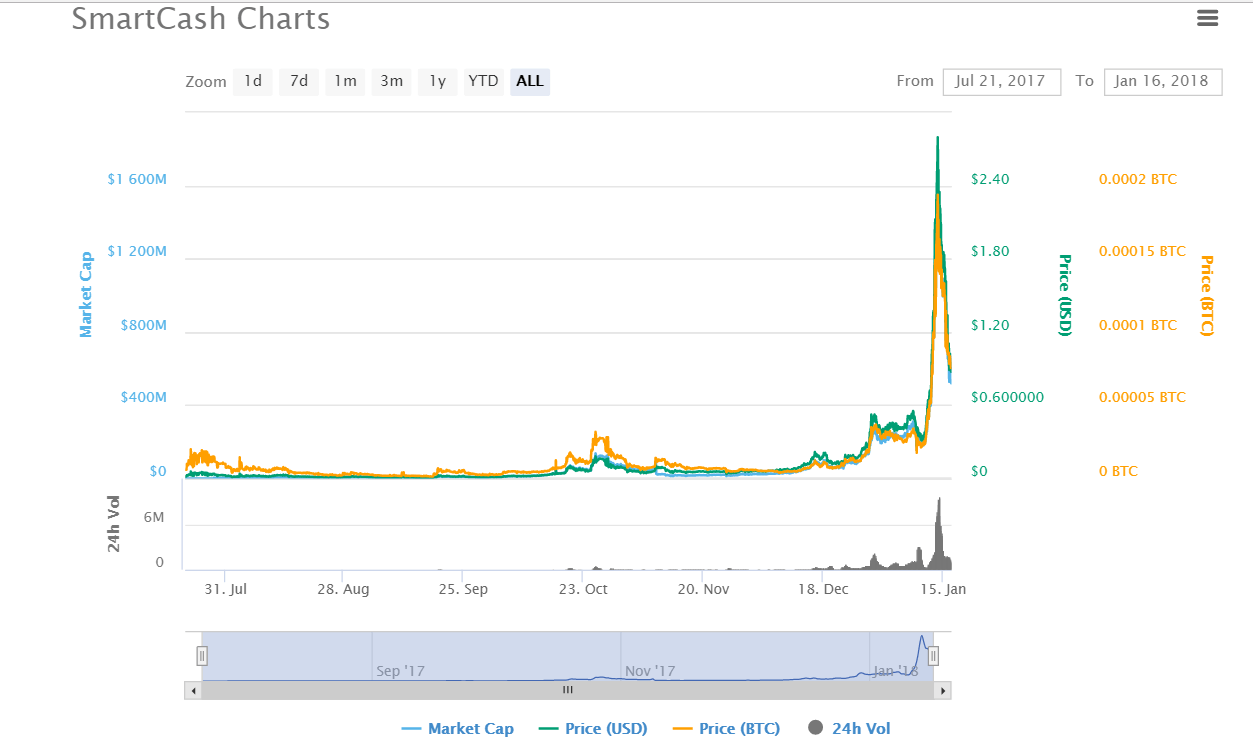 On August 3rd, 2017, SmartCash was trading at $0.017 and market capitalization stood at $2.2 million. At the end of 2017, the coin was trading at $3.6 while its market cap was $192 million. In the first weeks of January 2018, the coin gained tremendously to reach a price of $2.80 while market cap touched an all-time high of $1.6 billion. Since the coin was introduced, it has grown by more than 16,000 percent.
How will SmartCash perform in 2018?
Just like Ethereum and Bitcoin, SmartCash has grown at a very fast rate in the last months of 2017. The difference between this coin and the rest of the cryptos is that its growth seems to be driven by its unique design and to a certain degree the Bitcoin buzz. The SMART coin is currently riding on a bullish wave. It remains to be seen whether this streak will continue in the next few weeks.