This has been the year when the price of bitcoin has been setting new record highs, and lows, most often. Now the headlines point out that a single bitcoin is thrice the value of an ounce of gold, which is true. The price of bitcoin right now is $3,430, but it had gone above $3,500 earlier in the day.
Price history of bitcoin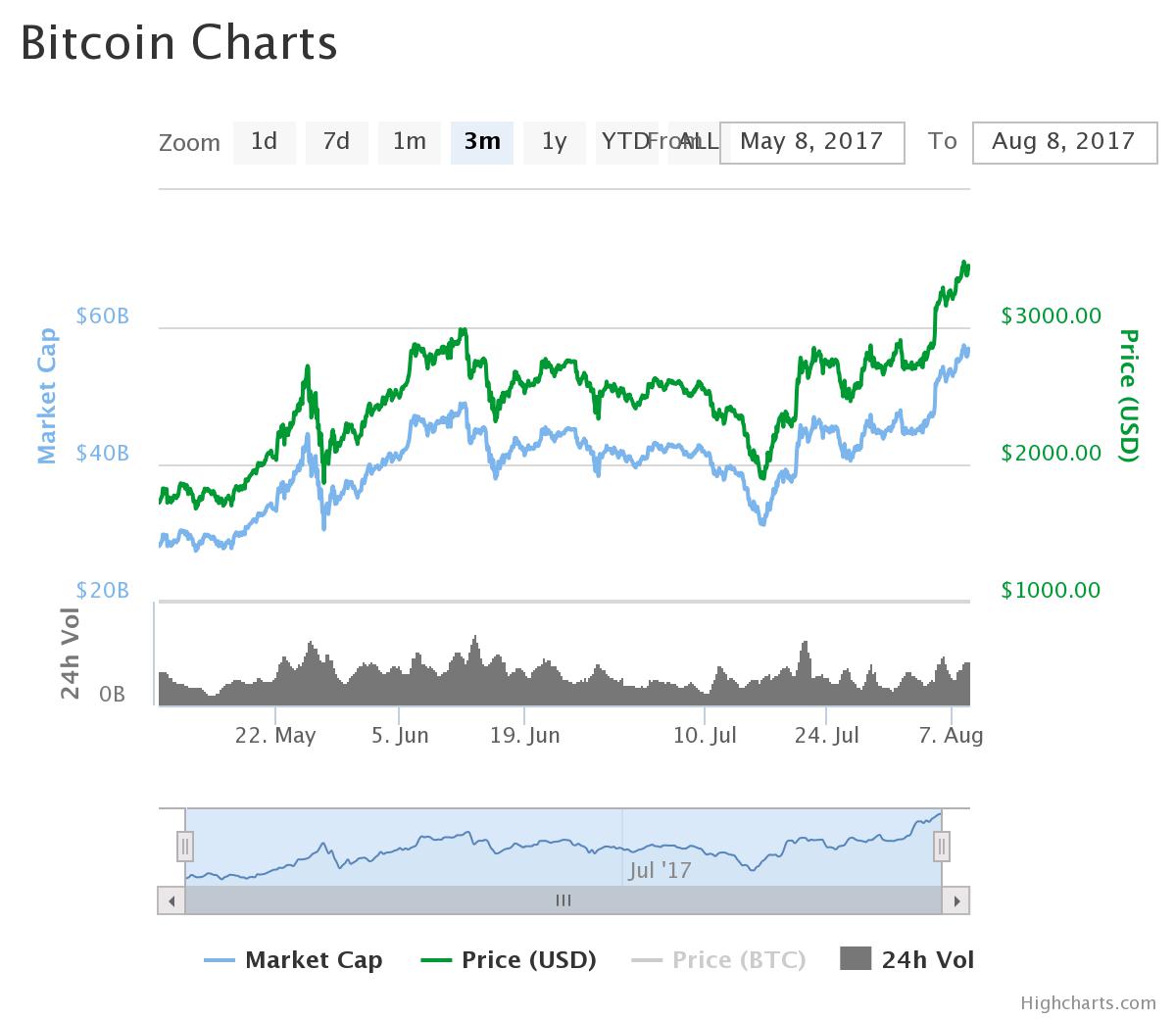 The price of bitcoin first reached 4-figures in January when it peaked above $1,000. This was fueled by increasing demand in China and India, but it was short-lived because the government introduced additional charges. Hopes for a bitcoin ETF by the Winklevoss twins then propelled bitcoin above $1,200. However, it was the legalization of bitcoin in Japan that had the biggest impact on the price of bitcoin. Now there's a new record at $3,500 that continues to prove that bitcoin is indeed the leader among virtual currencies.
What drove the recent uptick in the price of bitcoin?
The past week saw two major events occurring simultaneously, causing the surge in the price of bitcoin in just a few days.
UAHF of bitcoin cash
One of the main causes for the rise in the price of bitcoin this past week actually came from an unexpected source, bitcoin cash. As the SegWit lock-in approached, a few miners and developers expressed concerns about the program. Instead of going along, they chose to create their own virtual currency modelled after bitcoin's blockchain. This new cryptocurrency was named bitcoin cash, Bcash or BCH. It was created through a user-activated hard fork (UAHF) triggered when a significant portion of miners begin to process a different version of bitcoin software.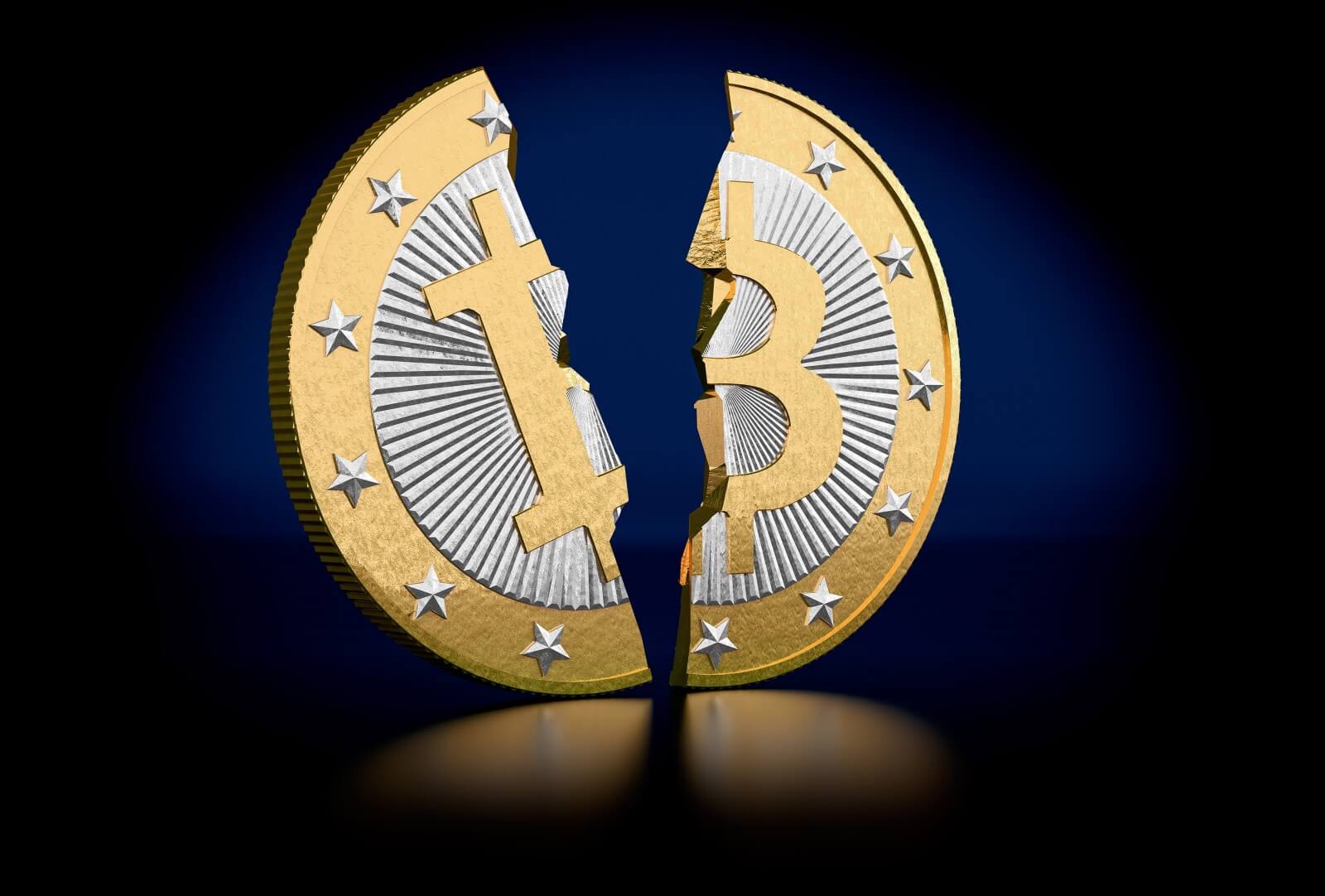 This new cryptocurrency would work exactly like bitcoin, only better in a number of ways. The most important was to increase the block size from 1MB to 8MB. The current 1MB block size limits bitcoin to just 7 transactions per second, while BCH's block size would allow more than 50. There are other improvements BCH brings to the table too, but this one was the most important considering how much trouble it had brought to the bitcoin community.
BCH was a spinoff to bitcoin, meaning that it would copy bitcoin's blockchain up until the moment of the split on the 1st of August. Therefore, a person who owned bitcoin would also have BCH because their transaction history would now appear on both blockchains. However, BCH was not quite as valuable as bitcoin itself, trading at around $300 on the day it was launched.
Unfortunately, investors did not take to BCH as much as the developers had expected, and when the value of BCH topped $700 on the 2nd of August, there was a massive selloff. Investors were selling their BCH tokens in favour of bitcoin. After the split, BCH gained a $12 billion market capitalization due to the copying of bitcoin's blockchain. Soon thereafter, when people started selling their BCH tokens, about $8 billion was wiped off the new coin's market cap. This was then transferred to bitcoin, which experienced a $9 billion rise in market capitalization over the past week.
Since the split of BCH from bitcoin, the price of bitcoin has risen almost 20% from $2,871 on the 1st of August.
SegWit lock-in
The long-awaited Segregated Witness (SegWit) threshold was reached today, almost 10 months after it was proposed last year in October. SegWit was proposed in the Bitcoin Improvement Proposal 141 (BIP 141) as a way of improving the bitcoin network. It was supposed to occur in two stages, the first one being the lock-in threshold that has just been met. In this first stage, 95% of miners were supposed to signal support for SegWit in their blocks, at which point all remaining miners will have to upgrade their bitcoin software. This required percentage has just been reached, meaning that SegWit has been locked-in, and there's no turning back.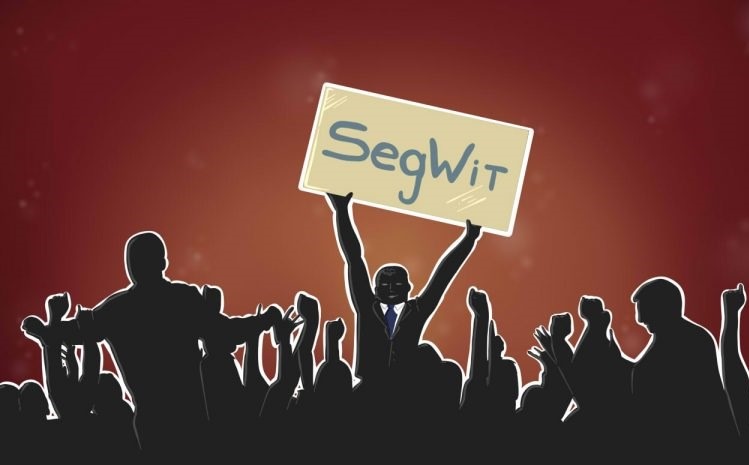 SegWit was supposed to improve the bitcoin network by fixing the transaction malleability problem in the bitcoin protocol. The new proposal separates transaction and signature data to prevent any problems with transactions. Besides the transactions, SegWit allows for further increases in bitcoin's block sizes in the future and the ability to add new features using smart contracts, just like Ethereum does.
SegWit's implementation was a huge deal for the bitcoin community, and although it was not fully backed, its benefits were clear. SegWit's lock-in also dissipated any fears of a hard fork, something that would have happened if the required threshold of miners was not reached. In such a case, there would have been two groups of miners, signaling for separate versions of bitcoin and causing a split. Therefore, SegWit's lock-in provides assurance that the upgrade is indeed going to happen.