Vibe cryptocurrency which carries ticker symbol of VIBE is the underlying currency of VIBEHub. The crypto is based on the ERC20 Ethereum blockchain. The platform allows 'holoportation' which is a technology through which a 3D real-time hologram of a person who is far away can interact with you. The holoportation technology was first developed by Microsoft. Vibe will let an artist conduct a concert or a lecturer to teach lessons in VR. People will no longer need to leave their houses to access concerts, lectures or meetings.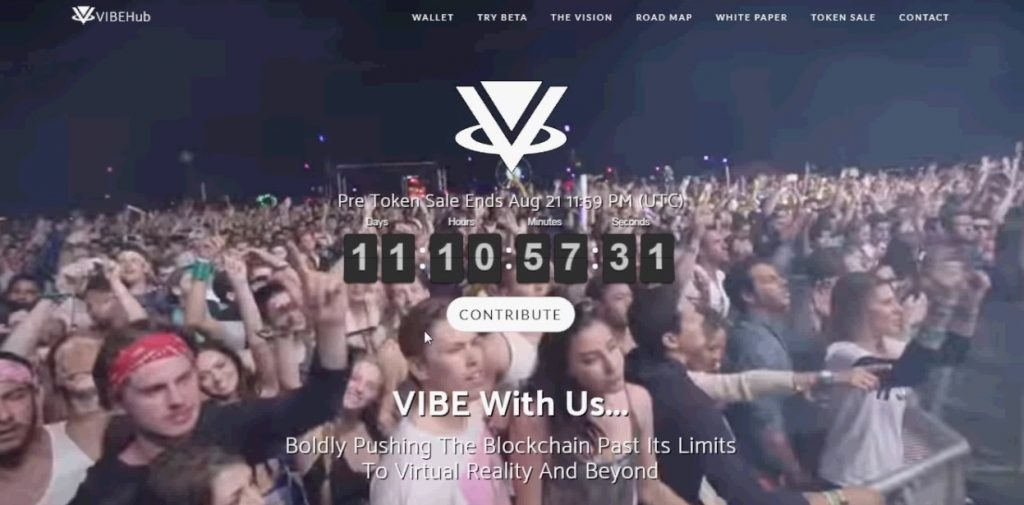 It is clear that VIBE wants to disrupt the concert business, education, online dating, sports and so on by use of virtual reality and Ethereum blockchain. VIBEHub is looking to create a marketplace where virtual reality content can be sold and purchased. For the many transactions which will be taking place in the marketplace or hubs, VIBE tokens will be used as the currency.
How does Vibe crypto work?
According to the Vibe's Whitepaper, the technology employed in the project is the same as that used by Microsoft. VIBEHub uses special multi-sensors stereographic cameras in order to get HoloPresence. It is with this technology that the company is able to create different hubs within the virtual world. VIBEHub is able to project perfect real-life humans into holograms. More than that, the holograms are placed in their own customized environments. Such a hologram can be as large as a giant or as small as an ant. Because the platform is based on blockchain technology, users get to enjoy unique benefits such as transparency, anonymity, and security.
Features that make Vibe crypto stand out
Gives an alternative reality – While VIBEHub is a digital platform, participants will have the opportunity to reach millions of viewers across the world. This will help create a virtual reality world for the millions of sports fans, music lovers, viewers and students.
Trusted blockchain – The cryptocurrency is based on Ethereum blockchain which many successful cryptos are based on. It is also ERC20 compliant. All transactions on this platform will be conducted using these tokens.
Unique exposure opportunity – VIBEHub has come up with a platform which allows customers to access virtual marketplaces which deliver services tailored to their specific tastes and requirements.
Participants will be able to monetize their services – VIBEHub has designed the platform in such a way that participants can monetize their services using the 'volumetric video assets'. Both AR and VR data will apply this feature.

The performance of VIBE token
2017 can be called the year when altcoins entered the market en masse. Well, VIBE was one of them. In September 22nd, the price of the coin was trading at $0.02217. Just as it is with many of the altcoins that mirror Bitcoin's performance, this crypto surged in late December 2017. However, it wasn't until January 10th that it reached an all high price of $2.7. On February 6th when Bitcoin dropped to a new 2018 low, this crypto plunged to trade at a low of $0.33. The market cap stood at $89 million then. This was a far cry from January 11th when market cap was $413 million.
As of March 19th, the crypto closed the day at $0.31. This was an improvement over the previous two days. Market cap on 18th was just $38 million. The tokens traded on that day were in the excess of $5 million. On 19th March, Coinmarketcap ranked the crypto at number 3 in terms of traded volumes. Over $11 million tokens had been traded on that day.
2018 analysis
For some time now, VIBE has not been scaling well with a high number of TPS – Transactions-per-Second. This forced the company to work on an off-chain solution for the token. This allows the creation of instant and free micro-transactions which are very much like those of IOTA. This move has helped in eliminating potential scaling issues for the crypto.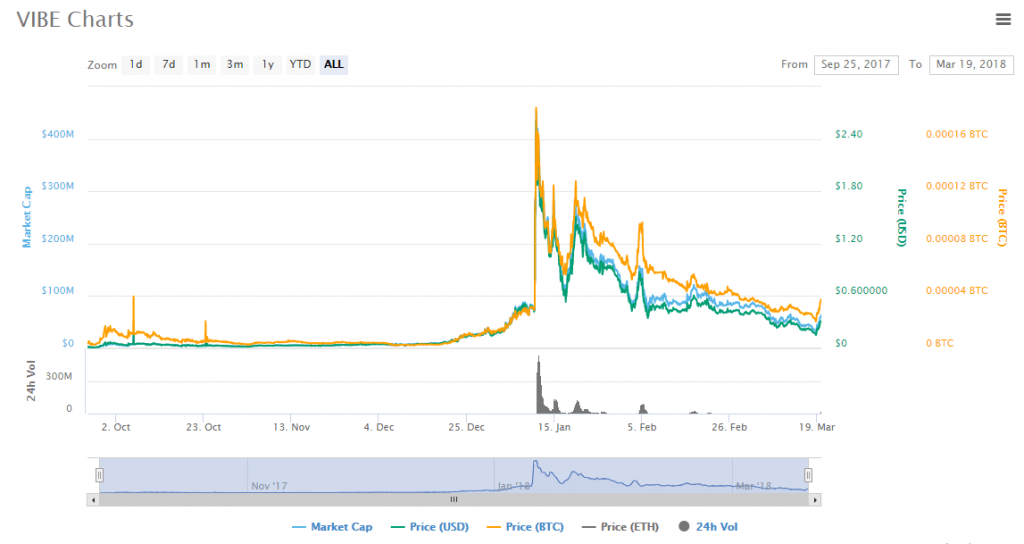 The virtual reality market is estimated to be worth around US$20 billion. The market is, however, projected to grow to more than $160 billion by 2020. VIBEHub is working hard to grab a solid share of the current market in 2018 and the years to come. Some experts believe that photorealistic holograms are what will make VR/ AR technology grow. There is great potential in this industry but only time can tell how strategically placed VIBEHub is.