ForexNewsNow – A recently launched company, tradingwheels, claims to have discovered a method to help new traders learn all the secrets of online trading. The company claims that conventional instructional material such as books, videos and seminars only teach the theoretical side of online trading, while the services offered by the company are also able to teach beginners how to trade in a real environment.
The company believes that the biggest reason why new traders fail to properly learn how to achieve success in online trading is because they let their emotions take control over their decisions. According to the company, the main reason why traders are unable to control their emotions is because they learn trading using demo accounts.
Since trading with demo accounts doesn't involve actual real money, traders tend to pay less attention to detail and to the risks a certain transaction offers. In the end, players will end up getting used to these habits something that leads to bad decisions and a lot of frustration.
Tradingwheels's New Tool Supposedly has the Solution

Tradingwheels claims that it managed to develop a tool that will help traders learn online trading the proper way using demo accounts. The main idea behind tradingwheels is that some of the trades executed by traders on their demo accounts will automatically be mirrored on a live account as well.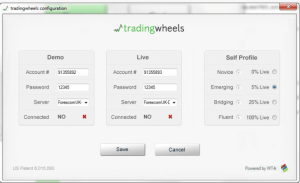 The trader however will not know what specific trade will be executed on their live accounts as well. This will result in traders being determined to pay attention to detail and focus on their individual trades at hand. This will train traders to have the necessary discipline in spending enough time figuring out all the details, potential risks and outcomes of the trades they execute.
In order to use the tradingwheels tool, traders will have to set up both a live account and a demo trading account at Forex.com. The tradingwheels tool will be used together with the extremely popular MetaTrader 4 online trading software platform.
On the tradingwheels tool, traders can choose between four trading modes based on their level of experience. The first mode, the Novice mode is basically a standard demo account mode, meaning that no live real money trades will be executed.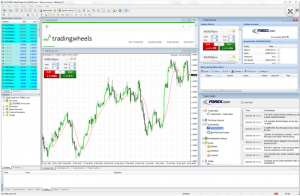 The Emerging mode however will mirror approximately 5% of the demo account trades performed by traders on their live accounts as well. This is followed by the "Bridging" trading mode that will mirror approximately 25% of the trades performed by traders on their demo accounts.
The last trading mode is Fluent that will copy 100% of the demo account trades executed by traders on their live accounts as well. Traders are recommended to begin using the first trading mode and slowly work their way up on the tier once they are confident in their skills.
Will it Work?
The services offered by tradingwheels look promising but at this point it's too early to decide if they will live up to the promises they make. What's certain is that the company clearly came up with a completely unique and interesting idea, something that reveals a great deal of creativity and dedication towards the online trading business.